Neck heating pad for neck and shoulder
We have sold thousands of neck heating pads and never had one returned, but have had more orders for their friends. Go to Stitch Thru Time Instagram to listen to our customers tell you how wonderful the neck heating pad is.

Neck heating pad to bring you comfort to a sore neck or shoulder or turn it upside down and you have the best lower back heating pad that fits your lower back perfectly.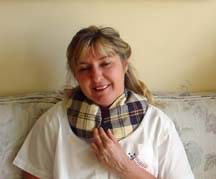 Neck Heating Pad $28.95
When I had breast cancer they took out some lymph nodes and it was very painful. I used the neck heating pad and wrapped it around my arm to my arm pit and it was very soothing. It helped me with the pain. I will also wrap around your hip knee or leg. I also used it on my lungs when I had pleurisy and my sciatic nerve when it hurts..
This one is great for your lower back neck knee chest shoulder and arm. Wrap this around your foot for Plantar Fascitis. the best heating pad for Plantar Fascitis on the market. We make it with pockets to keep the contents from moving around and our special designed pad will sooth your neck shoulder back and knee. Wrap it around your lungs if needed, it wraps very well because of our design. All this in one Neck Heating Pad.
Neck cold pack for your migraine, knee or ankle sprain. We take these to shows and warm them up for people to try on and the first thing they say is aah and then they take one home, they are just that wonderful. They mould to your neck and shoulder and contents don't move because of our design you get even heat all around your affected area. Turn it upside down and you have a perfect fit for your lower back.
A washable pillowcase comes with every pad, if it gets dirty remove the cover and throw it in the washing machine and dryer then put it back on your heating pad. The soft flannel keeps the heat in and your heating pad clean. This pad evenly heats all around and is made with pockets so you get even heat. A native American remedy for body aches and pains. you can not find anywhere else. The Best Neck Heating pad you can find anywhere.
Use it hot for sore muscles or cold if needed, just put it in the freezer for a cold pack that won't drip and the cover helps keep the cold in also.
Neck Heating Pad with washable pillowcase is the most wonderful neck heating pad you will ever own, it gets heat to your neck shoulder arm or back
Turn it upside down and it fits perfectly on your lower back to help relieve lower back pain.
If you need a cold pack just put it in the freezer for affected areas that need ice without the drip. You may also use it for a migraine headache when needed hot or cold.
Use pad cold for sprains just wrap pad on any area of your body, an arm pad that wraps comfortably around you arm or leg for added comfort. It is the best for sore muscles, when you put it on you will instantly feel the comfort as it penetrated deep heat to the affected area..
A special designed neck heating pad you will not find anywhere else.
The neck pad has been used to wrap around your lung area for comfort. Some of our customers use this on the knee hot or as a cold pack, it wraps well around the knee or thigh. The separate pockets make it so the contents do not run all to the front, instead it distributes heat evenly around your neck.
A perfect heating pad for you or as a gift, it is the gift that will be used for someone who has everything, including a sore neck or shoulders.
The way this fits on your neck will feel so good you won't want to ever use any other pad after only one use. The design and fit of our neck pads will get you hooked on our style. Try it and you will become a believer.