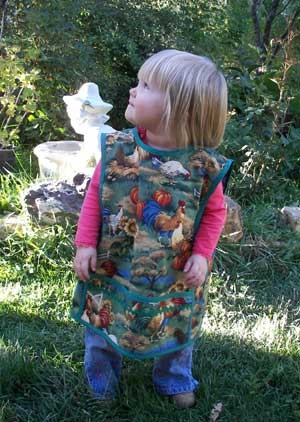 Small Child Apron
Girl in Chicken Garden apron #271 $24.95
You can get this Small child apron in any of our fabrics. Call us to order 435-648-2141
Small child apron shown in Chicken Garden.
The little girl shown in the picture is about 20 months old (she is a little shorter than average.)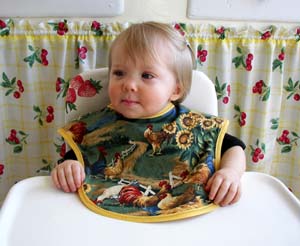 Chicken Bib #3011
$9.95 or buy 2 bibs (can be different bibs) 9.49 each
Baby bib that is easy to put on (with a snap) and covers shoulders and front. We have many new styles, check out of baby bib page
This baby bib is the chicken baby bib. Buy any two baby bibs and save for only $11.50 each. Baby bib is reversible with gold gingham on the other side.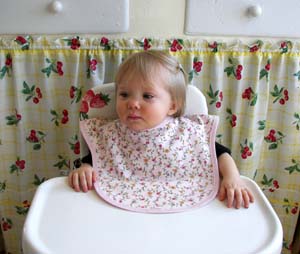 Pink Flannel flowers #3013
$9.95 or buy 2 bibs or more (can be different bibs) 9.49 each
Soft pink flannel flowers with pink gingham on reversible baby bib. Easy snap on back so you don't have to wrestle with the baby to get the bib on. Your going to like the way these bib fit.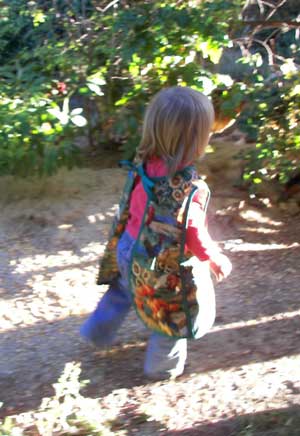 Back of small child apron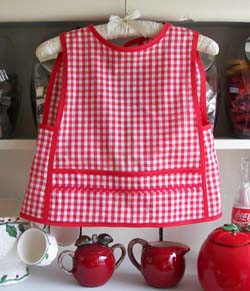 Small child apron in red Gingham
#201 $24.95
This darling toddler, baby, or little girl or boy apron will grow with your child.
Three pockets in front for their tiny hands to put fun things in. Covers around back to help keep clothes clean. A perfect baby bib for an older child.
Apron grows with your baby..
100% washable.
MADE IN THE U.S.A.
You can get this Small child apron in any of our fabrics. Call us to order 435-648-2141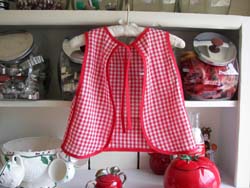 Small child apron back in red Gingham
#201 $24.95
Child apron back in red gingham with red trim will be an apron that lasts along with the many memories.