How to preserve Peaches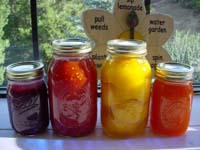 2 to 3 pounds peaches per quart
Sugar or another sweeter if you prefer
Water
To prepare peaches: Wash peaches; dip in boiling water 30 to 60 seconds; immediately dip peaches in cold water. Slip off peel. Cut in half; pit. Cling peaches are easier to cut into halves if a pitting spoon is used to loosen the pulp from the pit. Push the spoon through pulp from the stem end to the end of the pit, cutting pulp from the pit. If a pitting spoon is not available, use a knife to cut through to the pit; begin at stem end and follow crease to blossom end; continue cutting on opposite side. After cutting, hold a peach in half in each hand and twist in opposite directions to separate half's.
I prefer raw pack.

Raw Pack: Peel peaches; cut in half and pit. Treat to prevent darkening. Make a light or medium syrup; I prefer a light syrup, syrup recipes at the side and keep syrup hot until you put it in the jars, not boiling hot because you don't want this to boil but warm. Drain peaches. Pack peaches cavity side down, layers overlapping into hot jars. I use a wooden spoon to put peaches into jar with, lay the peach on top of the wooden spoon and put into jar, they will lay nicely, if you want to just throw them in remember they are your peaches you may do as you like.. Leave a 1/2 inch head space. Remove air bubbles by running a knife or plastic tool around sides, try not to cut the peaches. Adjust two-piece caps, always use new caps, make sure your screw on rims are not bent, you want your peaches to seal.
Process pints 25 minutes, quarts 30 minutes in a boiling-water canner. Check with your local state extension service or a canning book to make sure it is right for your area. I love the ball book of canning usually found at your local book store or grocery store.