Order Information Stitch Thru Time
You may order on line at our secure ordering page or,
Call us to order over the telephone at: 435-648-2141.
There is a 20 percent restocking fee unless otherwise specified
If you have any questions concerning sizes call us at 435-648-2141. Our customer service representative will be happy to help you.
Woman sizes are approximately:
Smaller than 10 is a petite
size 10 - small
Size 12 to 14 - medium
Size 14 to 16 - large if you like it fitting loosely size 14.
Size 18 - extra large
If you are larger than 18 please call us to talk about sizing.
Please keep in mind apron sizes are not exact. You will have clothes underneath. All of our women aprons come with long apron ties.
These sizes may vary depending on body shape, remember these are aprons not form fitting dresses. We make different sizes as we know every body is different and not one size fits all.
1940 Child apron measurements from shoulder to bottom of aprons.
Waist measurement below of apron does not include apron ties.
Child, girl apron sizes:
Petite around 20" height shoulder to bottom of apron by 16" apron width
Small around 26" height shoulder to bottom of apron by 19"apron width
Large around 30"height shoulder to bottom of apron by 23"apron width
If you have any questions about our heating pads or aprons we will be happy to help you, just call us.

We accept Visa Master Card and Discover Card and American Express.
If you are tall or short give us a call when you order and we will be able to adjust your apron. That is the advantage we have since we make our aprons here in the U.S.A.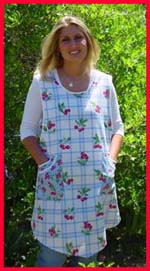 Our model is wearing the Aunt Violet apron. We have it in our differ ant apron styles, you may see it in the Grandma apron in yellow polka dot cherry which is available for those who like cherries.
Our thoughts and prayers are with all during this difficult time. Stitch Thru Time is open for business. We are a small company in an isolated area and are following the covid-19 guidelines. You may order on line, or by phone at 435-648-2141. We always enjoy talking to our customers.
If you want it gift wrapped we are happy to do that for a charge of $4.75 per item. We look forward to hearing from you, we appreciate your business.
Stylish Fashion Face Mask
Get a matching face mask in the same material as your apron.
Made in America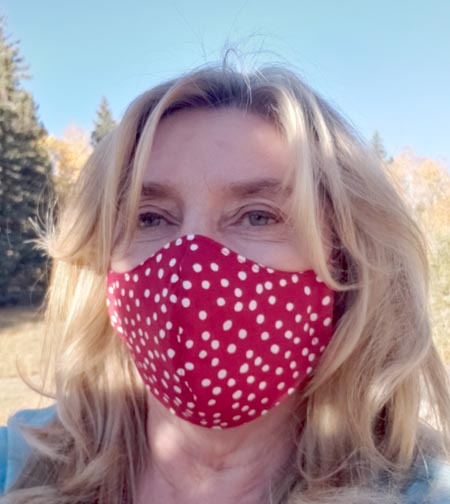 Retro Red polka dot Face mask F13 $12.00 each buy 2 or more $10.00 each ix or match fabrics
Stylish face mask in red polka dots. You have three layers of protection, two layers of cloth and one layer in between that is lined. Our face mask is also adjustable with elastic and a pull so you can make it smaller or larger for more comfort.
If you see a fabric on our web site you would like one in give us a call at 435-648-2141
You may have a face mask to go with your old fashioned apron.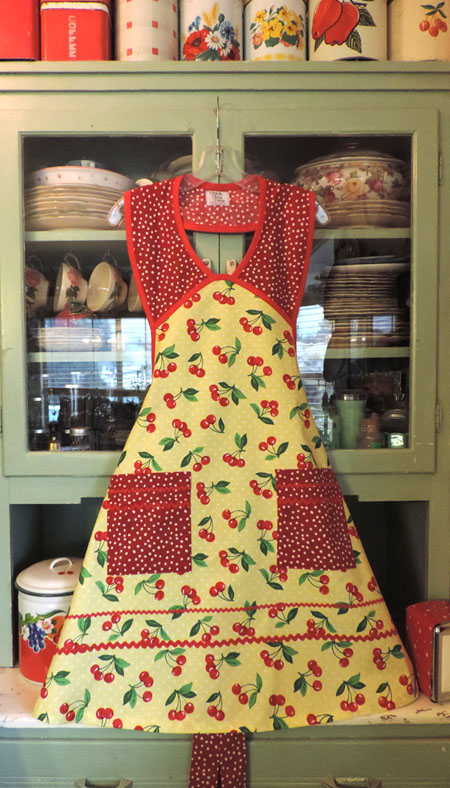 1940 in Cherries with yellow polka dots number2178 $49.95 ex large $54.95 and matching girls #33029 $39.95 child large $44.95
Retro 1940 in cherry with yellow polka dot in the background and red polka dot pockets and ties. This will go perfectly with your cherry pie. Red Cherries on yellow polka dots, oh so cute. It looks like you just picked it off your cherry tree.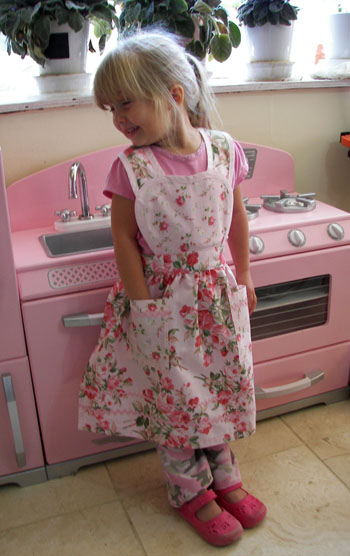 Heart apron, the little girl above is about 3 1/2 year old and is wearing a size small. There is still pretty or room for her to grow.
We are out of the fabric above but do have other floral and many other pretty prints you may have the child heart apron in. You may get matching mother daughter aprons. All our aprons are washable. Mother Daughter matching aprons in many of our other fabrics in this pretty heart apron.
Cobbler aprons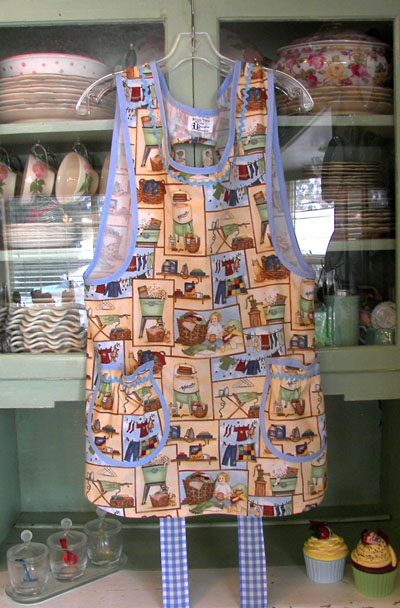 Grandma apron in Good Old Days number 2070. It comes with round or square pockets. A comfortable old fashioned apron that rests on your shoulders with pretty round pockets.
Darling good old days with old time clotheslines, ironing boards, old wash tubs and old fashioned washing machine. A little girl with her teddy bear by a basketful of clothes. Pretty handmade quilts on a clothesline are just some of the nostalgic scenes in this beautiful retro style.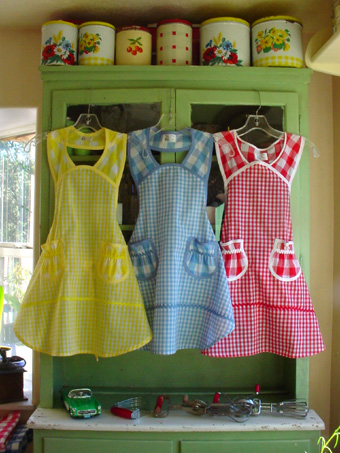 Old Fashioned 1940 Gingham Aprons for women and kids. These are designed and made at Stitch Thru time but you might have seen them on Pinterest. The above ones are child size but they come in adult sizes also in all our pretty fabrics.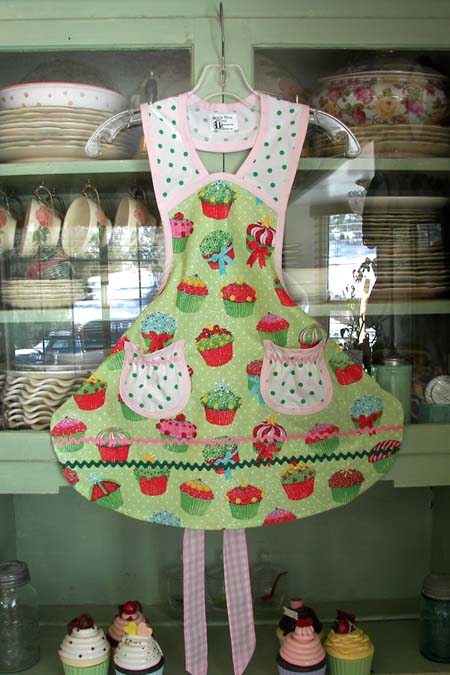 1940 Cupcake Apron. Women Cupcake aprons number 2093 $49.95 extra large $54.95 and girl cupcake apron 33005 $39.95 Child Large $44.95
This apron is just cute cute cute. Cupcake lovers this apron will bring a smile to your face. Beautifully decorated cupcakes on a soft green with white polka dot background. This pretty apron is shown in size child small and comes in mother and daughter matching aprons.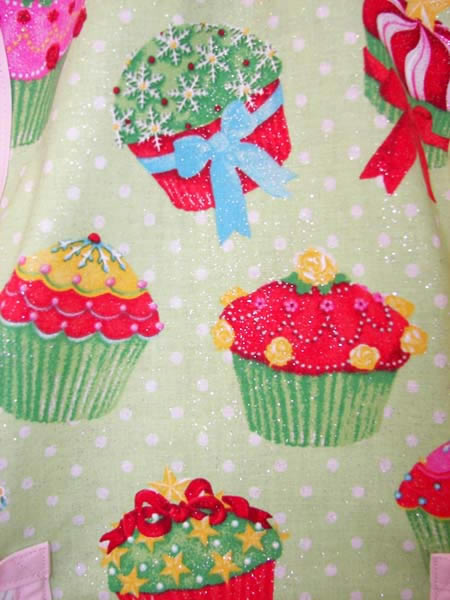 Close Up of Christmas cupcake apron. Silver glitter on a background of green with white polka dot. Cupcakes decorated like you've always wanted your cupcake to look like.
Square heating pads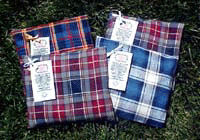 8 x 10" heating pads with pillowcase. Just throw it in the microwave for heat you can enjoy over and over. When the pillowcase gets dirty just wash the pillowcase to keep you heating pad clean.
Neck heating pads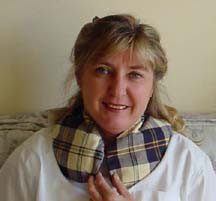 Neck heating pads only $28.95, microwave Neck heating pad contours to your neck and shoulders or wraps around your knee lower back, shoulder, ankle, arm or leg.
Heating pad for Plantar Fasciiti - wraps around you foot.