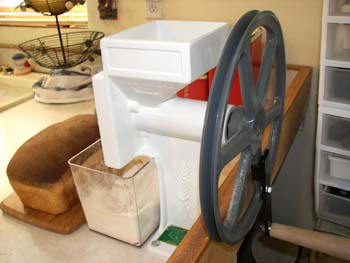 Wheat Grinder or Corn bean auger
FDA approved food-grade powder coating finish. Powder coating cast air craft aluminum.
Build for hand milling, but easily motorized.
High-carbon steel grinding plates.
Notice how fine the wheat flour is ground to. You may adjust it if you want a coarser grind for wheat cereal or the fine wheat flour for all your special recipes.
Bolt your wheat grinder to an area on your counter top or you may get a Wall mount kit to put your grain mill on.
The Motorization kit comes with a board to put your wheat grinder - corn bean auger on.
High Carbon Grinding Plates.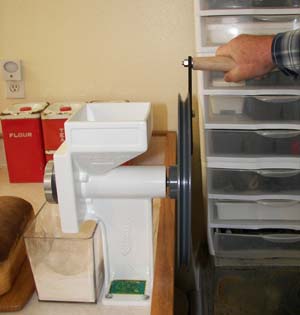 Grain Mill handle easily turns to make a fine flour.
Above wheat grain mill has the power bar attached to handle.
You won't find a hand wheat grinder anywhere that is as good a quality as this one.
I love the way it grinds the wheat while still keeping the vitamin E. If your wheat gets too hot while grinding you lose some of your vitamin E nutriments.
Having the wheat, corn, mill grinder out I wait until I need my flour and grind it just before baking. That way it is as fresh as possible.
Stainless Steel Corn & Bean Auger
Now get even more versatility out of your grain mill!
Use the large auger to mill corn, legumes, peas, and coffee. Simply replace the standard auger with the large auger. The pronounced ridges on the large auger grab larger grains and push them into the grinding plates. The large auger is available in stainless steel.
Go to Stitch Thru Time Instagram and listen to our customers tell you how wonderful our neck heating pads are

Neck heating pad for your neck back sciatic nerve and anywhere that hurts.