1940 Red Gingham Old Fashioned Aprons for Sale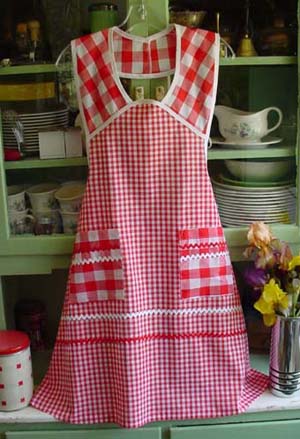 1940 Red Gingham Apron An old fashioned apron to make new memories with your family.
Don't just limit your memories to years past, make new ones of you in your pretty apron.
When your body feels achy and sore, use our heating pad and it will ache no more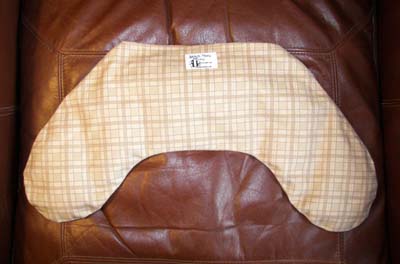 Neck and Lower Back Heating Pad $28.95
The Best neck heating pad you will ever use. Deep heat evenly distributed throughout your neck shoulders and lower back. Turn this upside and you have the perfect heating pad for your lower back, it fits perfectly. All of our heating pads come with removable washable pillowcases to keep them clean and keep the heat in. You may also use them as a cold pack, jus throw them in the freezer.
Stitch Thru Time
Any questions call our customer support center 435-648-2141
Stitch Thru Time started in the 1960s with Old Fashioned aprons like our Grandma and Mother used to wear. We have expanded our apron line to sizes for women and girls and many pretty styles. We have also developed our own line of microwave heating pads specializing on the neck back and the entire body. Our neck heating pad special design is the most comfortable neck heating pad on the market and delivers deep heat to your muscles.
Old fashioned aprons are becoming extinct and they deserve to be passed on to other generations. Who of us do not have a memory of a mother or grandmother in an apron. Stitch Thru Time wants our children and grandchildren to have memories of home and loved ones in their old fashioned aprons. To have a memory as a child in a little apron like moms in the kitchen cooking together. It should not be just for past generations but future generations should have those wonderful memories also.
We have extended our apron line with not just different aprons but a wide assortment of old fashioned fabrics, beautiful floral, ginghams and Holiday styles. An assortment of sizes has also been added as one size does not fit all.
Stitch Thru Time want you to enjoy your aprons just like your mother and grandmother did while keeping clean.
Our apron line has continued to grow, the aprons you remember so well. We have matching mother and daughter ones, even some for a toddler as well as men and boys.
The Holidays are a fun time in the kitchen and we want the kids to have fun in the kitchen and look like mom or grandma.
Our design department is constantly working on new items with an old flare. Ideas for our aprons were inspired from ones of our mothers, grandmothers, great grandmothers and designs from vintage aprons. We have taken those designs and improved on them, kept the old fashioned look while improving on their function and beauty. It is important to make sure these do not disappear, we want to preserve them and also the memories they evoke for our future generations to enjoy.
After listening to our customers on what their needs were we now have our custom designed neck, back, large and square heating pads that are unique and can not be found anywhere else. Our neck heating pad is the Cadillac of heating pads. Each heating pad is made specifically for a certain part of the body to fit comfortably, but they may be used anywhere. We have many customers that buy our heating pads for their cats and dogs.
Stitch Thru Time has been located in Arizona and Utah. We are currently nestled in a beautiful valley less then half an hour from Zions National Park, close also to Bryce Canyon, Lake Powell and the North Rim of the Grand Canyon.
All our aprons and heating pads are made in America.
The principle use of Grandma's apron was to protect the dress underneath, but along with that, it served as a holder for removing hot pans from the oven. It was wonderful for drying children tears, and on occasion was even used for cleaning out dirty ears.
From the chicken-coop the apron was used for carrying eggs, fussy chicks, and sometimes half hatched eggs to be finished in the warming oven.
The aprons were ideal hiding places for shy kids when company came. And when the weather was cold, grandma wrapped it around her arms. Those big old aprons wiped many a perspiring brow bent over the hot wood stove.
Chips and kindling wood were brought into the kitchen in that apron. From the garden it carried all sorts of vegetables. After the peas had been shelled it carried out the hulls. In the fall the apron was used to bring in apples that had fallen from the trees.
When unexpected company drove up the road it was surprising how much furniture that old apron could dust in a matter of seconds.
When dinner was ready Grandma walked out onto the porch, waved her apron and the men knew it was time to come in from the fields to dinner.
Grandma used to set her hot baked apple pies on the window sill to cool. Her Granddaughters set theirs on the window still to thaw"
It will be a long time before someone invents something that will replace that "old-time apron" that served so many purposes.
Old Fashioned red gingham half aprons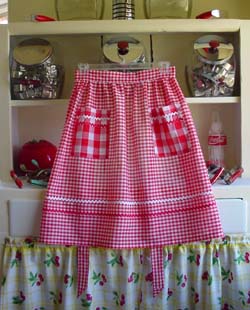 Retro red gingham half apron number303 $47.95 extra large $52.95, Girls half apron 406 $39.95
Retro red gingham with large gingham pockets. Red and white rick rack will make this one of your favorite ones to wear in the kitchen. Pockets come in a larger red and white gingham with white and red rick rack The bottom has white and red rick rack on it to match the pockets. Old fashioned half aprons that you will enjoy in the kitchen.
Washable to last for a very long time and easy cleaning.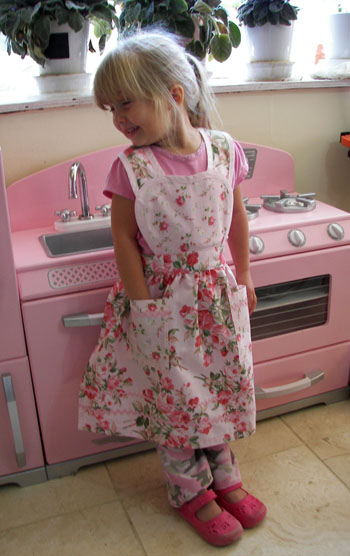 Heart Aprons for girls and you may also get this in a matching woman size.
The little girl above is about 3 1/2 years old and wearing a size small. There is still plenty of room to grow.
This pretty apron is available in mother and daughter sizes and also many of our other pretty fabrics.
Heart Apron worn by The Super Nanny Jo Frost on The View
Our Yellow Heart Apron featured on the cover of the Washington Post Magazine May 4 issue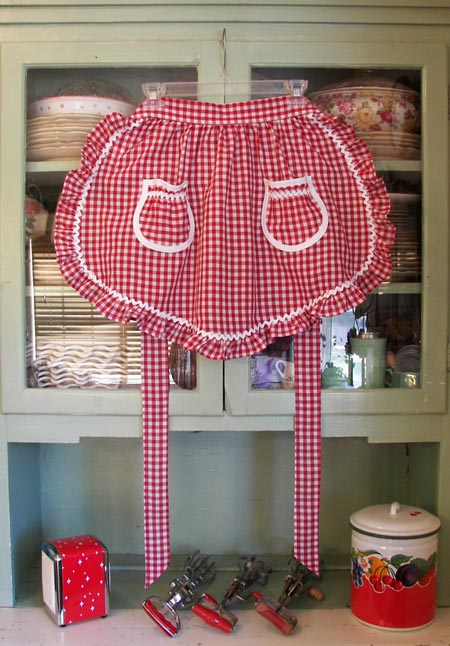 1948 Ruffle Red Gingham Half Apron 40031 $58.95 extra large $63.95, Girls 4049 $46.95 Order round or square pockets when ordering.
Ruffle half apron in red gingham. Retro red gingham half apron with white trim and rick rack is so Retro. Soft ruffles surround this beautiful style that is 100% washable and made in the America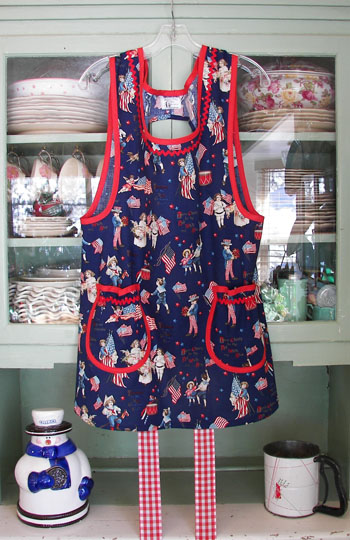 Grandma in Old Fashioned USA 2037
Old Fashioned American apron in red white and blue. Nostalgic scenes of the celebration of the good old USA. Three cheers for the red white and blue celebrating the 4th of July complete with flags, drums, red white and blue top hands and drummer boys. We even have angels flying through the air holding the American flag in this one, a very pretty scene. This is limited so when it is gone we can not get anymore. So fun to wear not just in the summer but whenever you feel inspired.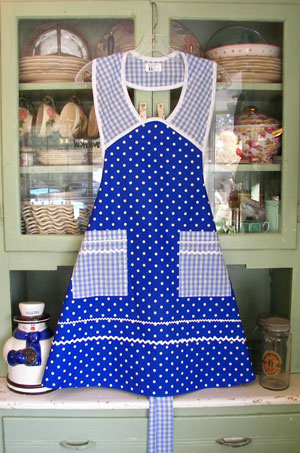 1940 Sky Blue Polka Dot Blue Gingham 1082 $49.95 extra large $54.95, girl $39.95 large $49.95
Blue polka dots with blue and white gingham is so retro and old fashioned combined. A beautiful blue with white polka dots and contrasting rick rack set this apart. You may wear this year round and festive enough for the Holidays. Get matching mother daughter ones in various sizes. Above one is shown in size medium. Cook memories up in this kitchen and look great.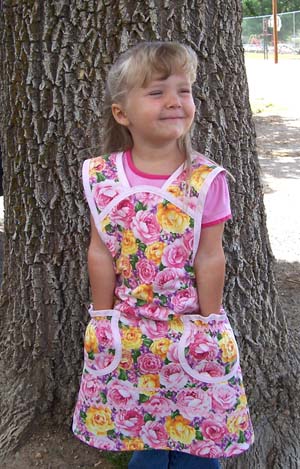 1940 aprons in child size and also comes in a matching adult sizes.
The little girl above is wearing a size small, she is about 3 1/2 years old, a little petite for her age and size small has plenty of room for her to grow.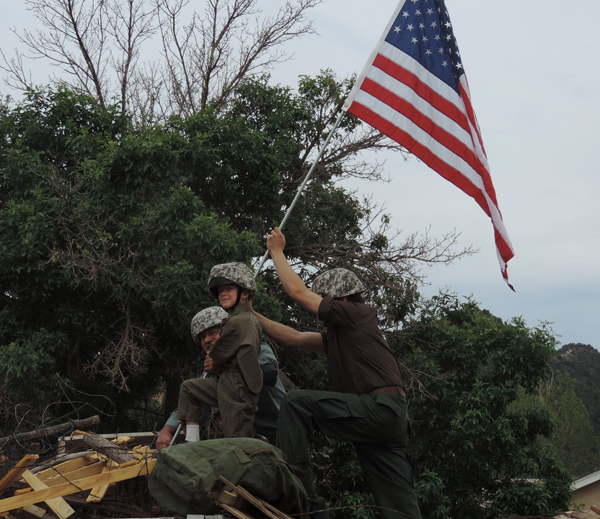 4th of July Parade
Stitch Thru Time is located in Glendale Utah. There are two in Utah and we are the one in the South by Zions National Park. Glendale is well known for its celebration on the 4th of July. We may not have the most expensive floats, but you won't see a better celebration than in our home town.
Glendale has veterans old and new, many have passed on, but we will honor them as you can see by our 4th of July float. Our parade may not be big but it is full of the American spirit. After dark we have a beautiful firework display, not bad for a small town.
Cherry aprons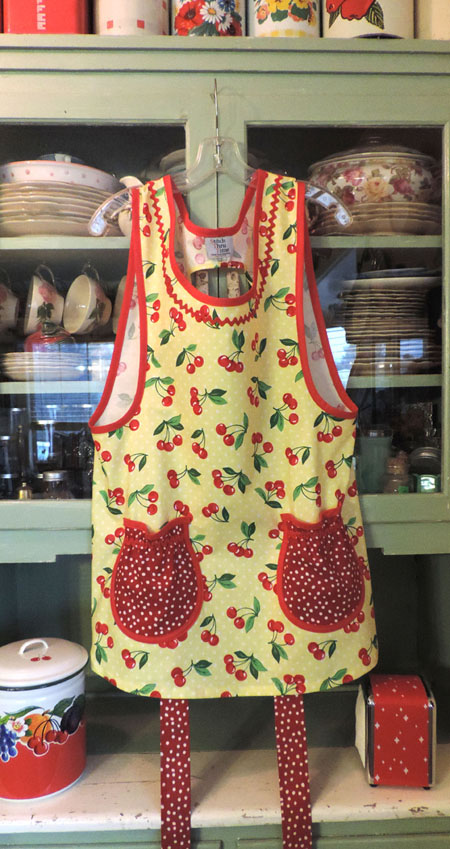 Grandma Cherry Apron #2179 $49.95 extra large $54.95
Cherry on yellow polka dots with red polka dot pockets and long red polka dot ties. Perfect to go with your cherry pie. Red Cherries on yellow Grandma style is also available in many of our pretty fabrics. Wear it everyday and the Holidays
Grandma style rests on your shoulders for comfort while keeping you clean. It does not pull on your neck and is very comfortable.
\

Christmas Retro aprons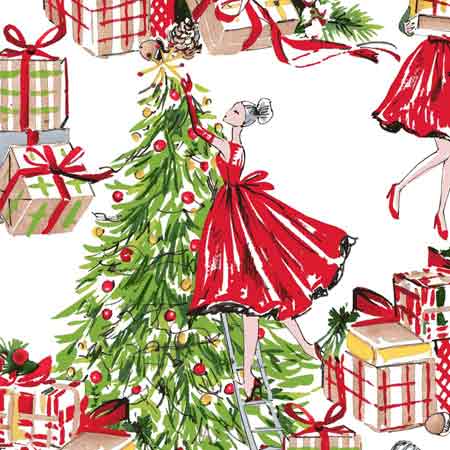 You may not have heels and silk flowing silk red dresses on while decorating but we can all wish. This is really a fun holiday scene while they are decorating the Christmas tree.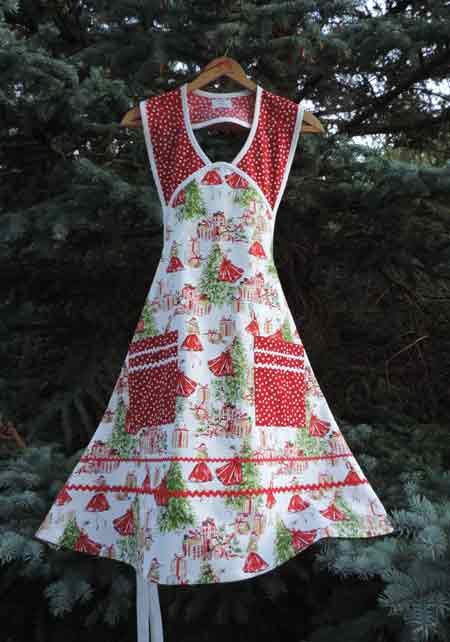 1940 Trimming the tree retro Christmas apron 2278, extra large $54.95 and girl 33040 $39.95, child large $44.95
Retro dressed women with holding presents and decorating the tree in their long flowing full dresses from the 1960s in heels. Well you may not have your red high heels on but we can all dream.. A retro style with red polka dots and contrasting rick rack and trim.
Get matching ones for Mom and daughter, maybe the little girl can have the Christmas cake or something cute but make lasting memories that go way beyond the Holidays.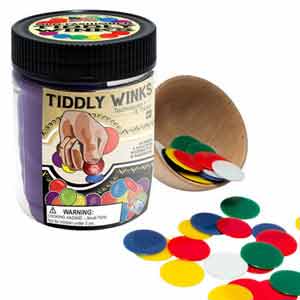 Tiddly Winks number 203 $9.95
36 Winks and 6 Shooters in 6 colors, Wooden Scoring Pot and Color canvas pouch in a jar. Scoring Pot in a Classic Toy Jar.
20 Page Handbook on history, game rules & techniques included.
The wood scoring pot is well made as are the tiddly winks that are a colorful for a fun game with the family, the kids will love them.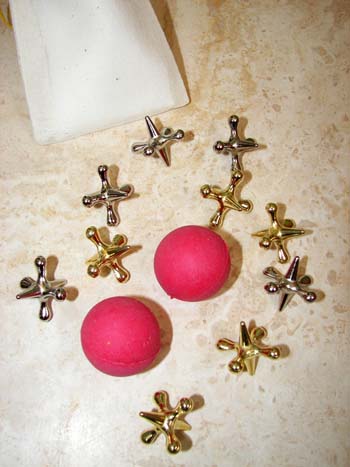 Old Fashioned toy jumbo jacks with 2 rubber balls and white cotton carrying pouch $7.49

Old Fashioned Jumbo Jacks just like the kind they used to make. Good quality jacks, 5 gold colored, 5 brass colored and 2 rubber balls. Your jacks come with a cotton pouch to carry your jacks and balls in, just like you remember when you were a child.
You may also get old fashioned jumbo jacks with 2 rubber balls, instruction book and canvas carrying case.