All our Heating Pads are Made in America
LARGE HEATING PADS
Large Heating pad comes with a removable soft washable pillowcase Use your large heating pad over and over. They are made with pockets to distribute heat evenly over your body for more comfort.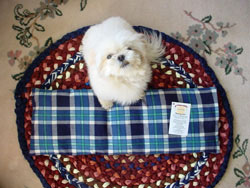 Large and Extra Large Heating Pads
Measures approximately 10" x 18" #802 $34.95
Measures approximately 10" x 26"#801 $42.95

We use separate pockets for even heat throughout our large heating pad, a large microwave heating pad with pockets to keep the heat distributed evenly.
Big heating pads that last that you can use over and over for deep heat and the most comfortable one you will ever use..
Washable Pillowcase keeps clean, just take off the pillowcase and throw it in the washing machine for easy cleaning.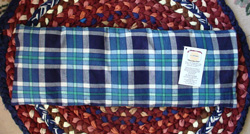 Customer Comment
My newest heating pad arrived this morning, just ahead of a major snow storm. Perfect timing and beautiful flannel. I love, love, LOVE the pattern and softness. I will be cozy and warm no matter how much snow we get! Thank you so much! Lisa C

Microwave Heating Pad feels Oh So Good and they all come with a washable pillowcase.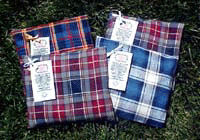 Heating Pad
8" x 10"Heating Pads with washable pillowcase$13.95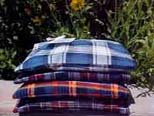 Heating pads come with a soft Washable pillowcase. Use Microwave Heating Pad in microwave over and over.
Put your pad in the Freezer for a Cold Pack.
Corn Heating Pads Our corn bag will last for years as long as you don't over heat it
This makes the perfect gift for you or someone special. It is a gift that will be appreciated and used. For the person who has everything including an achy body.
You may buy extra square pillowcases for heating pad for $6.49 each
The square heating pad is not really square, it is a little longer, around 8 inches by 11 inches. The washable pillowcase on the heating pad makes it easy to use.
Just throw it in the microwave heat and use.
I have taken this heating pad to bed and woke up four hours later with heat still coming off it.
When it starts to cool down just throw it back in the microwave - use it over and over.
It works perfect for someone who wants an inexpensive heating pad for the hands, or anywhere else you want to warm it up.
You may also use this in the freezer cold instead of heat. If you don't know what present to give someone for Christmas, birthday or any other special occasion this is the perfect gift.
Microwave Neck Heating pads, Body heating pads, Square Heating Pads.
Wrap it around your knee for a hot or cold pack, it fits well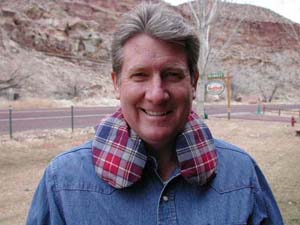 Neck Heating Pad
Neck Heating Pad $28.95 ea.
We make this with pockets for easy heat distribution that gives you even heat throughout the heating pad, the contents stay put for a deep even soothing heat to the affected area.
It moulds to your neck comfortably because of our special design or throw it over your shoulder knee down your back or turn it upside down for a fantastic lower back heating pad.
Our specially designed neck heating pad will sooth your neck and many other parts of your body. This goes deep into those sore muscles.
A washable pillowcase comes with every pad and when it gets dirt just throw it in the washing machine then put it back on and leave it on when you put it in the microwave.
Pockets for even distribution around your neck for added comfort.
It is a native American remedy for body aches & pains. It will comfort your neck while relaxing it.
The Best Neck Heating pad you will ever have
Neck Heating Pad with washable pillowcase is the most wonderful one you will ever own.
Pockets make sure your heat is distributed evenly around your neck shoulder knee or back, some use it on their feet as it wraps around any part of your body well.
Turn your neck heating pad upside down and it fits perfectly on your lower back to help relieve lower back pain
You may put in freezer for cold pack or use it for a migraine headache when needed, it can use hot or cold. Use pad cold for sprains or use as a wrap pad on any area of your body.
A great arm heating pad that wraps comfortably around your arm and leg for added comfort. Use Neck pad hot for sore muscles, when you put it on you will instantly feel the heat. With our design it moulds around the curve of your neck.
Heating pads made in the USA
Back heating pad for comfort and relief from the ache you have in your back. It also can be used as a cold pack, just throw it in the freezer.
Best Back Heating Pad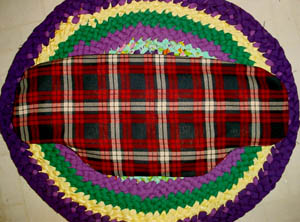 Back Heating Pad $36.95 ea.
We make our back heating pad with pockets for even heat distribution through the area that is sore..
Our special designed pad fits your lower back and it is designed to give you more heat coverage.
It has pockets to make it mould to your back neck,or knee with a special design for your lower back.
Throw it in the microwave for a heating pad or put it in the freezer for a cold pack. You can use it on your knee for cold or hot pack also.
It is large enough pad that it fits comfortably around your knee although we do recommend that you use the neck heating pad to wrap around the knee.
Our special shape is for your lower back, we make it so it fits the curve of your back very well.
You may order extra back heating pad pillowcases for $10.95 each.
Customer Comments
Whoever invented your heating pad with pockets is a genius. I got the back heating pad and my wife and I love it. We have a heating pad with no cord and it feels so good. Thanks, Joel
I received your heating pads a few days ago. I heat them up in the microwave and place in the bed (at the feet) before I go to bed. They warm up the bed and lets me go to sleep without feeling cold. I don't have to worry about going to sleep with an electric heating pad. They are great. Thanks for the fast service. Daniel
My son broke a bone in his hand and had to cold pack it, the square bag just fit over his hand comfortably, the ice was too hard and bitter cold. You bag was perfect. Thanks.
Ann
I love my heating pad, I need four more to give to my kids for Christmas, they fight over mine so I know they will love it.
Thank you so much for your help with my sister's order. She is thrilled with the corn bags and will remain a loyal customer. She has Raynauds disease and so her hands and feet are cold 24/7. The bags stays even warmer then most because of the covers,
So again "thanks". Lori West Cornwall CT.
Below is one of our funniest heating pad comment, even the cats love our heating pads.)
I bought a corn-filled heating pad years ago. It is the best thing ever. Unfortunately, my cat also thinks it's the best thing ever and always hogs it. I have been looking for another microwave able pad for years. All I find are those aroma therapy ones. I don't like them at all. I am so excited to have finally found you! Many thanks.
Nicole, Arlington, Maine
I asked her if I could use her story and this was her reply;
I would be happy for you to use the cat story. In fact, she is yowling right now because it is getting cold and she wants me to reheat it for her. She gets all excited when she hears the microwave. She can keep the old one, but she is definitely not getting the new ones. I have suffered long enough.
It's my turn now.
Thank you again,
Nicole
For the Person Who has Everything, including an Achy Body.
Try our heating pad and you will enjoy the comfort it brings.
Corn Microwave heating pad for back.
Microwave Corn Heating pad for warm comfort in your bed.
Microwave Heating Pad fits on lower back to help relieve lower back pain..
Heating Pad moulds to your body for extra comfort while heat sooths your muscles.
Take your Neck Heating Pad to bed, it warms up the bed, use it on your neck or turn it upside down and use it on your lower back. It also wraps around your sciatic nerve down your leg to help soothe your sore body.
Heating Pad Comments from customers
I love my heating pad, I need four more to give to my kids for Christmas, they fight over mine so I know they will love it. Emily
OH!...Thank you, thank you, thank you!!!! Your heating pad is MARVELOUS! Better than advertised. It came perfectly packaged. I am SO pleased! I love the shape/design and was surprised to see that it had a removable, washable cover. I suppose it was advertised as such; but I must have overlooked it!
I will tell everyone I know! I have such pain in my lower back from severe arthritis. It also affects my knees...This is PERFECT!
Thank you again! Judy
Customer Comments
Thank you! I received the heating pad a couple of days ago and it feels wonderful! This is the first real relief I've had for my neck in months. I'm grateful and delighted to have discovered your product. Sincerely,
Judy, Stony Brook, NY
I received my order and am quite satisfied. All the pads and covers are beautifully done. I am using them for myself, my oldest cat, and giving some for Christmas gifts. Thanks so much!!!
Happy Holidays to you and yours!
Sincerely, Vicki
OH!...Thank you, thank you, thank you!!!! Your heating pad is MARVELOUS! Better than advertised. It came perfectly packaged. I am SO pleased! I love the shape/design and was surprised to see that it had a removable, washable cover. I suppose it was advertised as such; but I must have overlooked it!
I will tell everyone I know! I have such pain in my lower back from severe arthritis. It also affects my knees...This is PERFECT! p Thank you again! Judy
Hi,
The heating pads arrived yesterday in good shape. I especially like the way the shoulder heating pad fits. Thanks, Fran
Hi,
I received one of your neck pads a couple of years ago as a gift... I have another use for you, LOL... Not only does it soothe aching muscles, but... I am extremely cold natured and my husband is NOT, so this is a TERRIFIC help to me to keep from being cold all over. I heat it up, throw it around my neck and VOILA, I'm not cold! It has worked wonders. I am gonna need to get a new one, LOL.... Love your product!!! Karen K. NQ Arkansas
Hello,The heating pads arrived this weekend. They look and feel great. Thank you!
Nurit
Greetings..
Got them today I think I'm getting the flu and I heated the neck heating pad up
okay it was a Christmas present for somebody else, but not anymore. it
felt so good--I love it. And my hubby likes it too cause it doesn't stink
lavender like my other ones. Anyway, thanks so much and have a great
holiday! Clara
You are right! My new neck heating pad is wonderful, better than any others
that I have had.
Julie
I've had other heating pads before but never have they fit my body and comforted like these, thanks so much. Susan
Just a note to let you know we received the heating pad. My wife loves it! Thank you so much.
Steve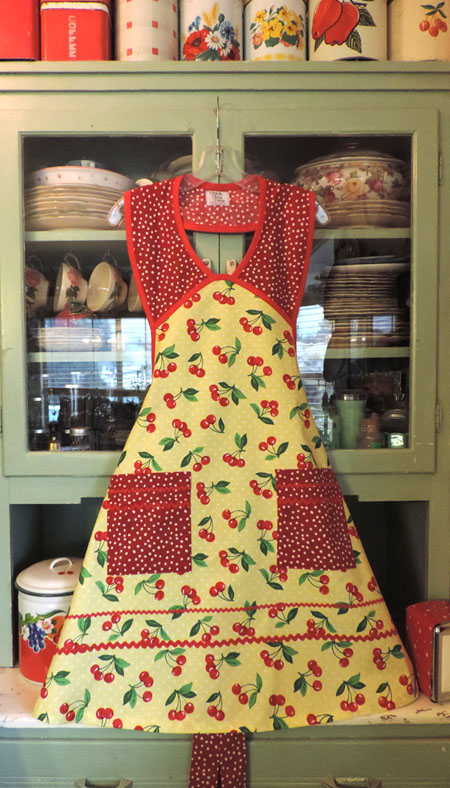 1940 apron in Cherries with yellow polka dots women number 2178 $49.95 ex large $54.95 and matching girls #33029 $39.95, child large $44.95
Retro 1940 in cherry with yellow polka dot in the background and red polka dot pockets and ties. This will go perfectly with your cherry pie. Red Cherries on yellow polka dots, oh so cute. It looks like you just picked it off your cherry tree.