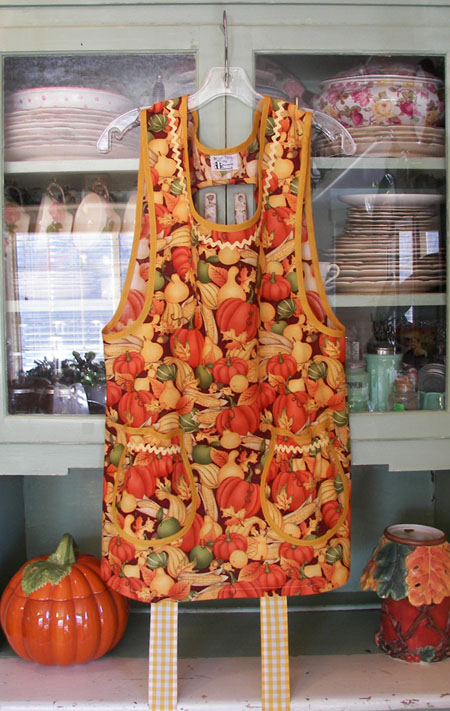 Grandma #163 $49.95, extra large $54.95.
Get this cute apron with square or round pockets.
Grandma apron in a pretty Harvest gold with pumpkins, pumpkin leaves, small blossoms on a pale gold background.
A Thanksgiving apron perfect throughout the Holidays. This pretty apron is pretty enough to wear year round.
Pretty gold gingham apron ties with rick rack on apron top and gathered round pockets.
Beautiful Thanksgiving harvest apron you'll have fun wearing.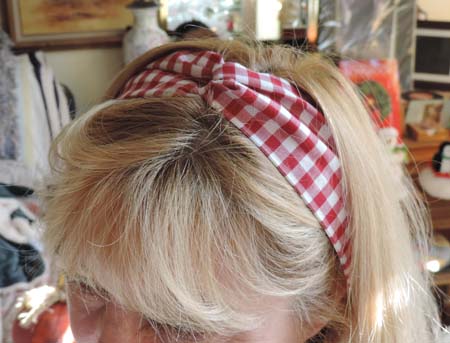 Lucy Hair Wrap in Red Gingham $14.95
Old fashioned hair tie with elastic on bottom for a comfortable hair tie. You may get a matching hair tie for your apron.
Get this pretty hair tie that loops around the front. An old fashioned 1940 1950 hair tie.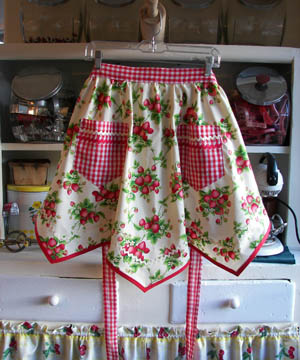 "Victory" Strawberry Women Half Apron
#315 $47.95 ex-large $5.00 extra
1940's Strawberry Victory apron, right out of the 1940's. This oh so pretty apron in strawberries on a soft cream background with ivory rick rack and red trim finish the bottom of this retro apron. Also available in red, blue, yellow, pink gingham, lilac pansy and rose bouquet, paper dolls, Old Fashioned Christmas, Holiday rose and Harvest pumpkin.!