Valentine Heart Aprons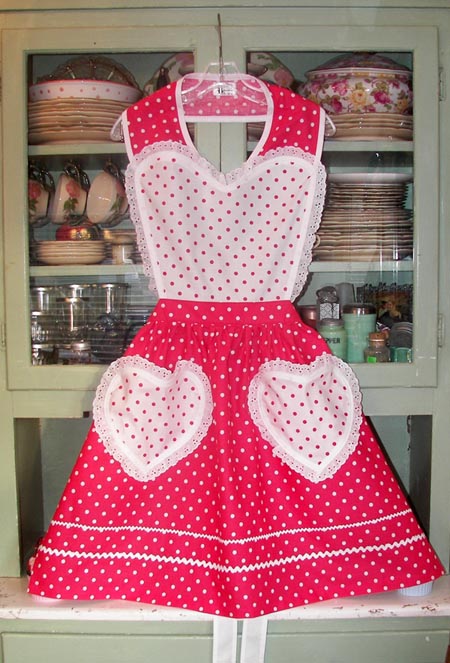 Valentine Ruffled Lace apron Pink Polka Dots woman number 2120 $70.95 extra large $75.95 and girl 33010 $60.95

They have lace on the heart and pockets, large heart pockets surrounded by lace on a dark pink polka dot background make them stand out.
White polka dot heart on top surrounded by lace will be one of your sweetest ones to wear in the kitchen or just being pretty around the house.
Pink polka dots can be worn year round. You'll feel pretty in this elegant retro one.
It looks like an old fashioned Valentine card on you.
Girl Heart apron comes in matching mother daughter aprons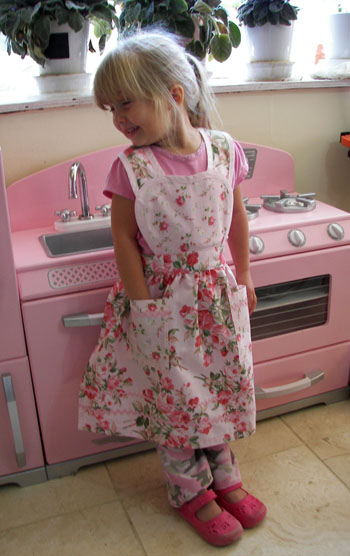 Heart Apron
We have this in many of our petty fabrics. The little girl above is about 3 1/2 years old and wearing a size small. There is still plenty of room to grow.
This pretty old fashioned one is available in mother and daughter sizes and also many of our other pretty fabrics.
Its just as cute in the woman size and all are also available in the Valentine lace one for women and girls. Perfect for every day or the bride on her wedding day, the perfect gift.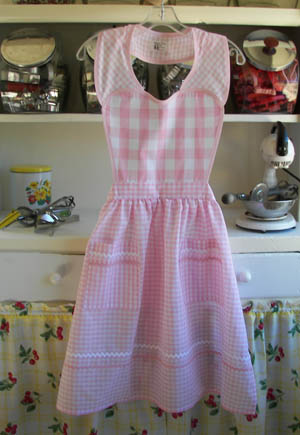 Pink Gingham heart apron ladies number 160 $64.95 ex large $69.95 Girl 70005 $53.95
You'll be pretty as pink in this pink gingham. A retro look with a feminine touch.
Pink and white rick rack add to the 1930 1940 and 1950 look. Customers call this the I Love Lucy apron.
We call it pretty pink on you.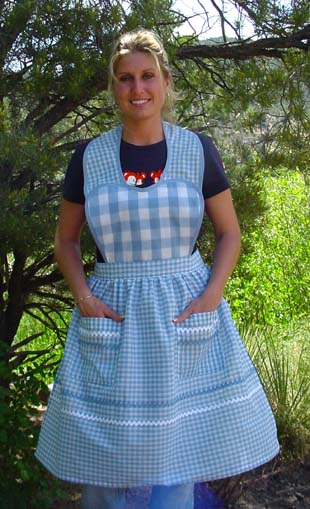 Blue gingham heart apron number 117 $64.95, extra large $69.95 girls 70004 $53.95
Lovely in blue pink yellow and red gingham with contrasting rick rack or many of our other pretty fabrics. Enjoy wearing an old fashioned style with a heart.
This apron was worn by The Super Nanny Jo Frost on The View.
Our yellow heart apron featured on the cover of the Washington Post Magazine.

Red Gingham heart apron from the 1950s number 116 $64.95, ex large $69.95 girl 70002 $53.95
Red gingham with white and red rick rack. Red Blue Pink or Yellow gingham from the 1940s 1950s collection. Or get in many of our other pretty fabrics.
We are always adding to our old fashioned apron collection, you won't find anywhere except at Stitch Thru Time. If you want a vintage one like your grandma used to wear enjoy this beautiful one.
Each one is made the old fashioned way in Utah, the good old USA and adorned with trim like was used in the 1930s 1940s 1950s and 1960. Our customers call this the I Love Lucy Aunt Bee, and June Cleaver apron.
The cabinet a retro Montgomery Ward.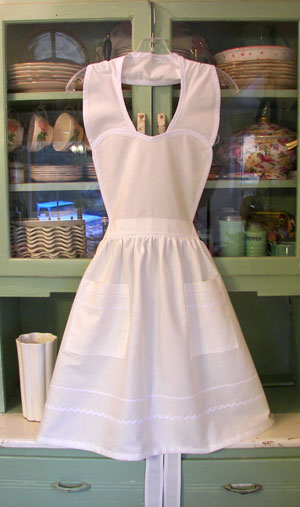 All White #1075 Ladies $64.95, ex large $69.95 girl #70001 $53.95
We have this gorgeous one in all white and one above is shown in size woman small.
A very elegant look in all white with white rick rack on bottom of this and on the pockets.
Get a matching one in women and girls or you can mix them up with many of our other pretty fabrics.
Available in women and child sizes.
Heart apron white with red trim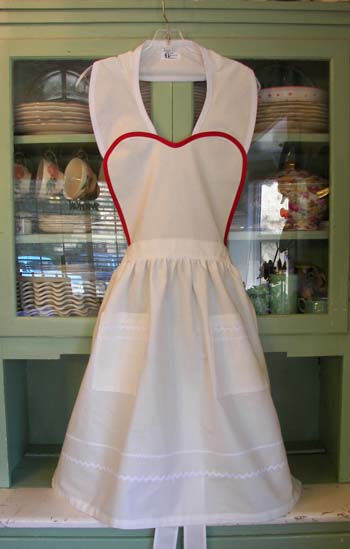 White with red trim #1036 $64.95, extra large $69.95 and girl #312 $53.95

The red trim really makes the heart stand out , it is all white except for red trim. Very retro that is available in woman and child sizes. It comes with white rick rack on bottom and pockets of this very elegant style.
All of our aprons are made in America at Stitch Thru Time.