Blue gingham Victory half apron
Made in America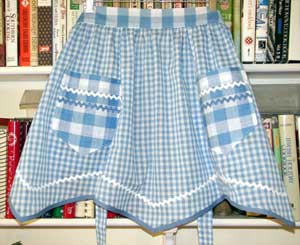 Blue Gingham Victory apron Ladies number 334 $62.95 extra large $67.95 Child half apron 453 $55.95
Blue Gingham Half in a stylish retro look that has stood the test of time. It will remind you of your mother and grandmother in the kitchen. Old fashioned white rick rack, and blue trim on the bottom for a finished touch make this even more pretty.
Aprons made in America
Red gingham American flag half apron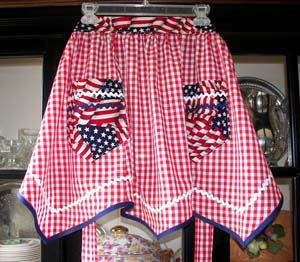 Victory half apron Red Gingham 4th of July Woman number 370 $62.95 extra large $67.95 girls 474 $55.95
Waist band and pockets in the 4th of July red white and blue. Red and white gingham go along with this patriotic red white and blue flags on the pocket and waist band with blue trim on the bottom. Red white and blue with 4th of July pockets. Great for the summer picnic or just around the kitchen.
Red gingham all in the kitchen
Victory red gingham with all in the kitchen pockets half apron ladies number 40037 $62.95, extra large $67.95 girl 482 $55.95.
Vintage style in red gingham with family kitchen on the pockets of this pretty one with retro red trim on the bottom of this old fashioned style set it off with the white rick rack all around and on the pockets.