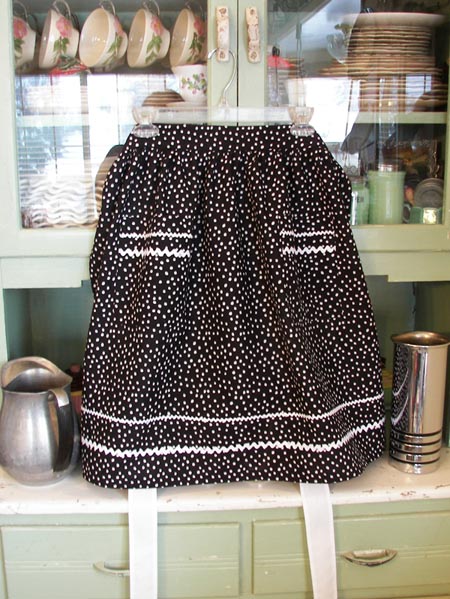 Retro black polka dot half aprons 392 $52.95 extra large $57.95 girl 436 $45.95
Black polka dots to go with that little black dress. The white rick rack really pops on the black background. White ties that are long for an easy tie. This could very well be like one your mom wore in the 1960s. It covers well and you will look very nice in it.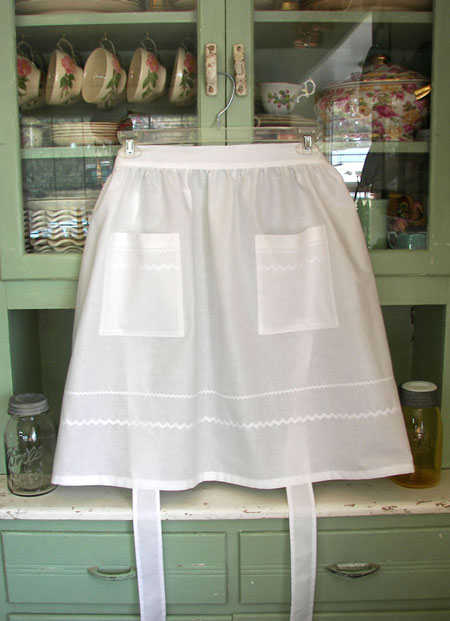 Retro Half Apron in all white 305 $52.95 extra large $57.95 girls 421 $45.95
All white with large square pockets and the rick rack is white also on nice large pockets and bottom of a very nostalgic style. Keep yourself clean in an old fashioned chef apron you can enjoy for years as it is washable and best of all made in America.
Green gingham retro half apron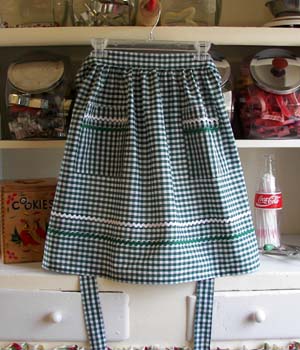 Green gingham women retro half apron 350 $52.95 extra large $57.95 girl 437 $45.95
Green gingham with white and green rick rack. Long ties and large pockets with rick rack for that old fashioned look.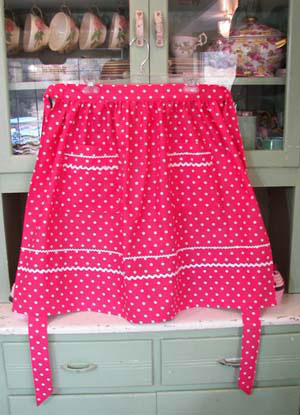 Retro Pink and white polka dot apron 395 $52.95 extra large $57.95 girl 432 $45.95
Pink with white polka dots is darling and is available in woman or child sizes. White rick rack stands out on this washable and very cute old fashioned style and it is made in the USA.
Two large apron pockets with small and large white rick rack. help to make this even more darling. An old fashioned half apron that will not only be fun to wear in the kitchen or anywhere else for that matter but also cover you to help keep your clothes clean.
Victory Strawberry half apron 315 $62.95 extra large $67.95 girl 462 $55.95 Above right is strawberry close up.
Strawberry victory half aprons right out of the 1940s. Very pretty in strawberries on a white background with white rick rack and red trim finish the bottom perfectly. Also available in red blue yellow pink gingham many of our other pretty fabrics for everyday or the holidays.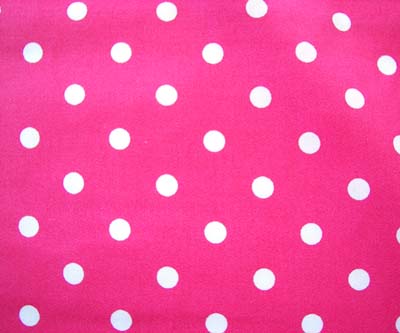 Pink White Polka Dot Close Up
Blue polka dot ruffle half apron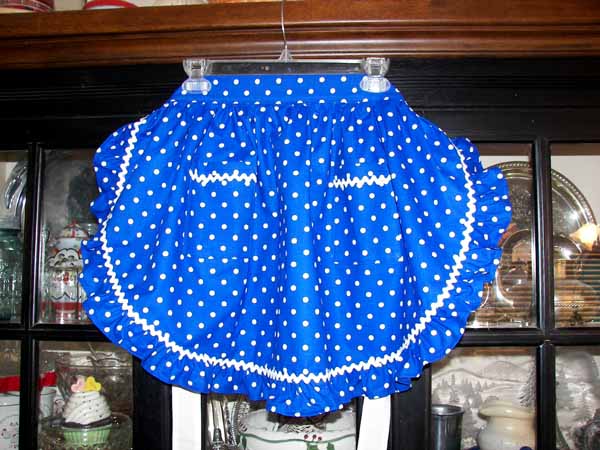 1948 Ruffle half aprons 40042 $62.95 extra large $67.95 girl 4056 $60.95

This comes with round or square pockets the one above is shown with square pockets. They are a smaller pocket than the Retro half apron but this one is very pretty with ruffles all the way around the bottom. A blue background with white polka dots and white rick rack that stands out on the blue. You may order this in women or girl sizes.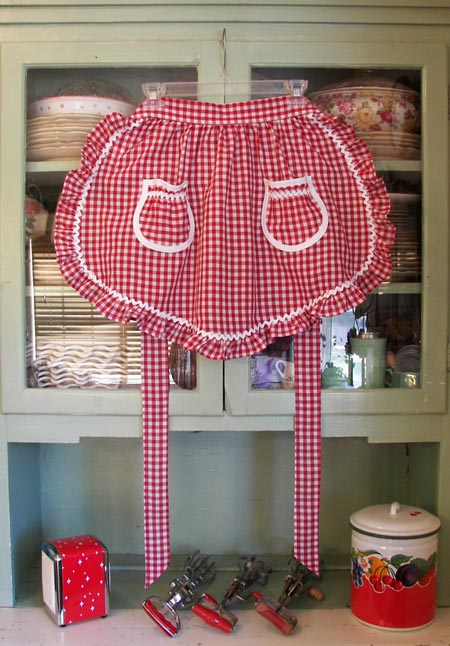 1948 Ruffle Red Gingham half apron ladies 40031 $62.95 extra large $67.95 girls 4049 $60.95.
Shown with round pockets but you can get all of the 1948 style with round or square pockets. Red gingham with red gingham apron ties, very Retro red gingham but timeless with white trim and rick rack.
Soft ruffles surround this and it is washable and made in America.
This was sent to us from someone in the UK and was worth repeating.
Good morning from wet England,

Came across your site and just had to say how beautiful your aprons are, particularly the half aprons. They bring back so many wonderful memories of my childhood in the 60s and 70s. My mum, Grandma and sisters always wore aprons around the house, and I must confess I was a little jealous.
The simple half apron may only be a piece of cloth and ties, but says so much more, so very much more than just a protection of clothing. Wearing an apron says, I am ready to serve you and take care of you, I am safe , kind and helpful. Just consider a nurse, a maid , a waitress and of course mothers.
So wish those days were still here, a time when life was a little more simple and respectful.

Very best wishes

Michael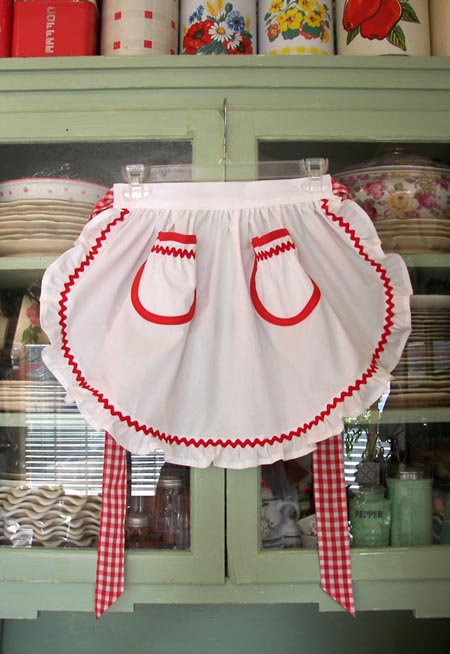 1948 Ruffle Half Aprons in White with red trim & with red gingham apron ties women 40040 $62.95 extra large $67.95, girl 4055 $60.95.
1948 white with red rick rack and trim around pretty pockets lined in red. Red gingham ties finish off this pretty style.
Like the old fashioned Retro kitchen and restaurant half aprons from the 1940s and 1950s.