A Small American company with a Big Heart
The holidays are fast approaching and what better time then to get your Halloween Thanksgiving and Christmas aprons. We have a wide selection of fabrics and sizes to fit all.
Canning season is here and you would enjoy a new apron for the time spent in the kitchen. There is something about putting on an apron that makes you feel and look better. Enjoy your time canning and drying this season.
The best neck heating pad for your neck shoulder and lower back. We have sold thousands over the years and never had one returned but only had our customers buy more for their friends.

Stitch through Time is a women owned business, we have new aprons for the old fashioned girl. No matter how old you are we are all still girls at heart.
Beautiful old fashioned aprons that are not only pretty but are very comfortable. Make new memories of your own with your family while cooking in the kitchen.
Throughout time an apron has always been worn with love. It is important to keep vintage aprons alive, and memories along with them. Stitch Thru time is doing their best to keep aprons alive for generations.
Gingham will always be a favorite especially when mixed with polka dots material. We have mixed some gingham and polka dot material in with our Christmas styles to give your apron an extra flare.
The Christmas Holidays are soon coming Halloween is just around the corner so look at our pretty holiday aprons and order early so you can wear them throughout the holidays.
Our achy muscles are still here so why not pamper your sore muscles with a microwave heating pad. We have special designed heating pads that are for different parts of your body. If taken care of properly your microwave heating pads can last for years and with the washable pillowcase on each heating pad they stay clean and the heat can last longer. The soft flannel pillowcase that comes with every heating pad feels wonderful.
If you want to give your dog or cat the most wonderful thing they could ever have give them a square heating pad. We have customers who cats meow when the microwave goes on expecting a warm heating pad.
Check out of Mother Daughter matching aprons, they are available in many or out styles.
We have the perfect stocking stuffier or presents in our old fashioned toys. Everything from Jacks, airplanes, tiddly winks, tops wood air planes and much more in our Old Fashioned Toys.
Quite often we have web designers who tell us our web site is outdated. We could spend thousands of dollars on a new website but would rather spend it on new fabrics for our old fashioned web site that matches our aprons.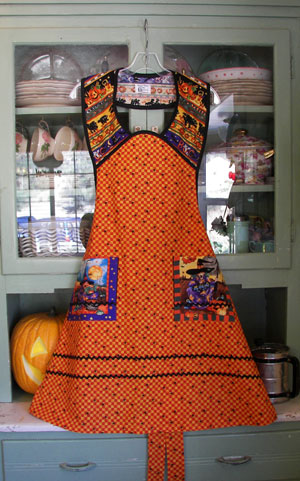 1940 Halloween apron and who knew spiders could be so cute on gingham number 1093 $49.95 extra large $54.95 girl 303 $39.95 large $44.95
We now a have stylish cloth face mask for comfort
4 layer face mask is available in our pretty fabrics, the one below is a red polka dot. What makes ours so unique is we have four layers, two cloth and a lining and an adjustable soft elastic that you can get the perfect fit.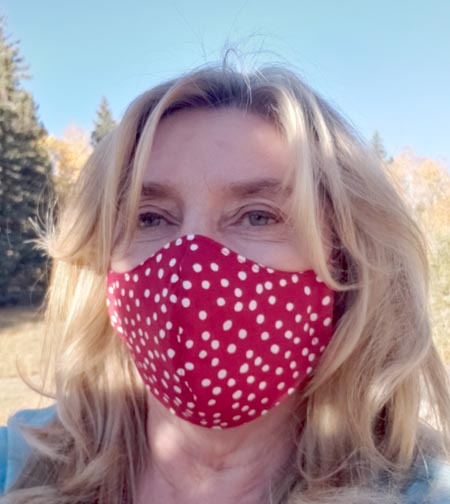 Retro Red polka dot Face mask F13 $14.00
Stylish face mask in red polka dots. You have four layers of protection, two layers of cloth and two layers in between. Our face mask has adjustable elastic with a pull so you can make it smaller or larger for more comfort.
We have darling fabric on our web site and if you want the same material in a mask call us at 435-648-2141. You may get a face mask to match your old fashioned apron.
Women face masks
F10 American Flag
F11 Red gingham
F12 Pink Polka Dot
F13 Red polka dot
F14 Blue Polka Dot
F15 Trimming the Tree
F16 Old Trucks
F17 Black polka dot
F18 Soda Fountain
F19 Cherry and polka dots
F20 Red Truck
F21 Old Fashioned USA
F22 Golden Autumn Leaf
F23 Old Fashioned USA
F24 Golden Autumn Leaf
F25 Christmas on the farm
F26 Pink roses and pink polka dots
F27 Lane of Liberty
F28 Angels on cream
F29 Blue angels with wings
F30 Christmas country church
F31 Hokus Pokus with purple spiders