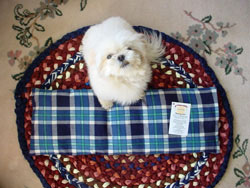 Extra Large heating pad 10" x 26" number 801 $42.95
Large Heating Pad 10" x 18 1/2" number 802 $34.95
Sizes are approximate
This is a large heating pad in two sizes and the pockets keep the heat throughout rather than moving to one side for more even deep heat.
All our large heating pads come with removable pillowcase washable to keep it clean.
It come with one cover, but if you want to order an extra one the prices are below.
Extra Cover 10 x 26" $15.95
Extra Cover 10 x 18 1/2" $10.95
Choose from Plaid or Floral washable flannel pillowcase one cover is included with your heating large pad.
Customer Comments
Whoever invented your heating pad with pockets is a genius. I got the back heating pad and my wife and I love it. We have a heating pad with no cord and it feels so good. Thanks, Joel
I received my order and am quite satisfied. All the pads and covers are beautifully done. I am using them for myself, my oldest cat, and giving some for Christmas gifts. Thanks so much!!!
Happy Holidays to you and yours. Sincerely, Vicki
Heating pads are made in America
Made in the USA
Customer comments
We love your square pads. My wife and I have each used one three times a day for a couple of years. The two pads are still in fine shape! We are now finally getting some for relatives.
John, Irvine, California
OH!...Thank you, thank you, thank you!!!! Your heating pad is MARVELOUS! Better than advertised. It came perfectly packaged. I am SO pleased! I love the shape/design and was surprised to see that it had a removable, washable cover. I suppose it was advertised as such; but I must have overlooked it!
I will tell everyone I know! I have such pain in my lower back from severe arthritis. It also affects my knees...This is PERFECT!
Thank you again!
Judy
I Warm my heat pad in the microwave, put it under my coat then take it to the football game. It keeps me warm, I love it.
Joann
Hi. Just wanted to let you know we received the heating pads. I have already started using the one on my neck. It has been great so far. Our microwave must heat too fast though because it was too hot the first time. I adjusted the time like you said and the temp. was better the second time. The quality is very nice and I like the floral pattern. I will try to let you know as time goes by how I do with it and when I give them as gifts to my family. Thanks so much. Tammy, Virginia

I have tried both patterns, and they were easy to make. I had a lot of fun trying out some variations, too.
Thank you,
Linda
Duluth, Minnesota
The heating pads arrived yesterday in good shape. I especially like the way the shoulder heating pad fits. Thanks, Fran
Hi,
I received one of your neck pads a couple of years ago as a gift... I have another use for you, LOL... Not only does it soothe aching muscles, but... I am extremely cold natured and my husband is NOT, so this is a TERRIFIC help to me to keep from being cold all over. I heat it up, throw it around my neck and VOILA, I'm not cold! It has worked wonders. I am gonna need to get a new one, LOL....
Love your product!!!
Karen K.
NQ Arkansas
Greetings..
Got them today--I think I'm getting the flu and I heated the neck heating pad up
(okay it was a Christmas present for somebody else, but not anymore!) it
felt so good--I love it. And my hubby likes it too cause it doesn't stink
lavender like my other ones. Anyway, thanks so much and have a great
holiday!