Back heating pads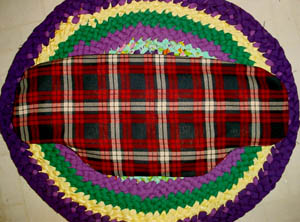 Back Heating Pad with special design to fit your back $36.95 Comes in assorted plaid or floral. Easy to clean flannel pillowcase and you may order covers for $10.95 each.
Our special design to moulds to your back. Once you have tried it you will not want to use another. The design is made to mould to your lower back. It sooths the pain and ache away as it fits your back and curves to where the muscle and aches are and it also fits your upper body with ease.
It can be used over and over again and it lasts.
Microwave back heating pads are made in America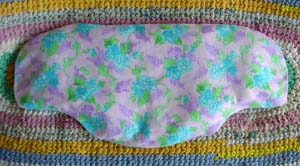 Best back design $36.95 reusable and it comes with a plaid or floral flannel cover that you choose when ordering
They may be used as a heating pad or a cold pack. Use it all over your body or just put it in your bed or on your feet to keep warm. The pillowcase helps keep the heat or cold in and comforts your body with soft flannel.
Easy to follow instructions come with each heating pad and it is great for you or as a gift. This is a gift that will be used. You won't find a better quality one anywhere else unless it is one of ours.
For the person who has everything, including an aching back.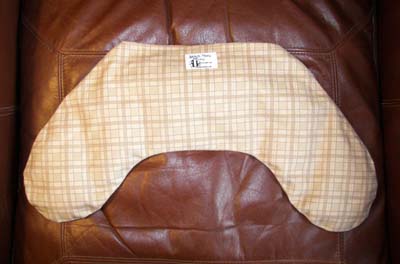 Microwave Neck Heating Pad contours to your neck, only $28.95
Notice the special curve we have on ours that is a special design created at Stitch Thru Time. We make it with pockets so it curves around your neck shoulder knee foot or anywhere else with ease. Each one comes with instructions for easy use and great gift giving. This will be something that if you give it to someone they will use it and love it. We include with each one instructions for easy use, the perfect gift for you or a loved one that will be appreciated.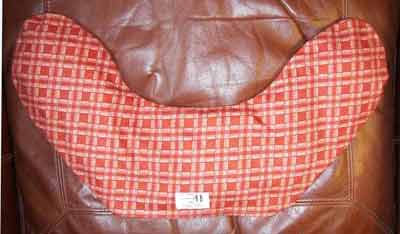 Lower back heating pad and use it on your neck also, it does double duty. $28.95 or use as a neck or shoulder heating pad
Turn your neck heating pad upside down and it fits the curve of your lower back for deep heat and comfort. It heats evenly throughout because of our special curve and design made with pockets so heat is even throughout the entire pad.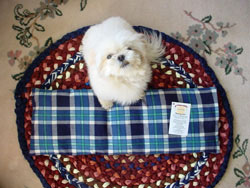 Extra Large heating pad 10" x 26" number 801 $42.95
Large Heating Pad 10" x 18 1/2" number 802 $34.95
Sizes are approximate
This is a large heating pad in two sizes and the pockets keep the heat throughout rather than moving to one side for more even deep heat.
All our large heating pads come with removable pillowcase washable to keep it clean.
It come with one cover, but if you want to order an extra one the prices are below.
Extra Cover 10 x 26" $15.95
Extra Cover 10 x 18 1/2" $10.95
Choose from Plaid or Floral washable flannel pillowcase one cover is included with your heating large pad.
Square heating pad for back feet or anywhere on your body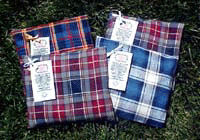 Heating Pad $13.95 Pillowcase included
Our heating pads will comfort you on a cold winter night, just throw it in your bed after heating it up in the microwave and you'll be surprised how long it lasts. It is perfect as a bed warmer or warm other parts of your body.
They have a soft washable pillowcase so warm it up in the microwave and use it over and over, we have customers who have had some for years. Deep heat that penetrates your body or put in the freezer for a cold pack.
It measures approximately 8 by 11 inches and is natural. The most comfortable one anywhere. The washable pillowcase protects your body while keeping the heat in for added comfort.
Customer Comments
Whoever invented your heating pad with pockets is a genius. I got the back heating pad and my wife and I love it. We have a heating pad with no cord and it feels so good. Thanks, Joel
I received my order and am quite satisfied. All the pads and covers are beautifully done. I am using them for myself, my oldest cat, and giving some for Christmas gifts. Thanks so much!!!
Happy Holidays to you and yours. Sincerely,
Vicki
Heating pads made in America
Cloth Face Masks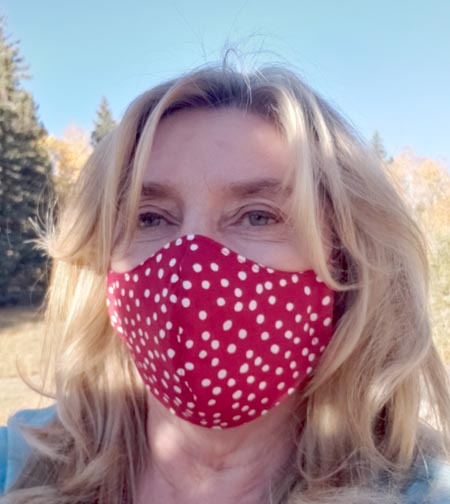 4 layer face mask Retro Red polka dot number F13 $14.00 mix and match fabrics go to our face mask page for some of the face mask fabric.
4 layers and it is comfortable, you have room to talk without it sucking in and out because of four layers. It is stiffer than the flimsy masks. Stylish face mask in red polka dots or it comes in our other pretty materials. You have four layers of protection, two layers of cloth and two layers in between that is lined. Our face mask is adjustable with a soft elastic pull so you can make it smaller or larger for a better fit and more comfort. If you see a fabric on our web site and want the same material in a mask call us at 435-648-2141. You may get a face mask to match your old fashioned aprons. Soft elastic around the ear for more comfort. Washable
Made in the USA