Neck heating pad for your neck back sciatic nerve and anywhere that hurts.
For the person who has everything including an achy body.
Neck heating pad, large heating pad for the back knee arm and foot that moulds to your body.
We have sold thousands and never had one returned, but reorders for their friends and family.
Neck pads $28.95 they feel oh so good. Each one comes with a soft washable flannel cover to keep it clean and the heat in. You may also order extra covers at $9.95 each.
When we take this to a show and warm it up as soon as someone tries it on the first thing they say is ah and then they walk out with one, it is just that comfortable and feels that good. Can be used as a cold pack just throw it in the freezer.
This is fitted for your upper body or turn it upside down and it fits your your lower back perfectly. Wrap it around your sciatic nerve knee or thigh for comfort and relax your muscles with the deep and even warmth you will only get with ours. This can be used cold or hot wrap it around your knee or ankle for relief all this in one pad. Washable pillowcase included with all our pads and best of all it is made in America
It will comfort you with deep relaxing warmth and a gift that is used over and over, some of our customers have had theirs for many years. Great for Plantar Fasciiti and wraps around you foot for even heat.
We make it with pockets so you get even warmth all the way around your body, the contents stay put because of our own special design makes it even. You may also put it in the freezer if you want it cold.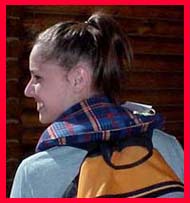 Deep heat radiates into your body, you will feel instant comfort. They measure approximately 6 inches wide by 31 inches long and are curved. Some of our customers take them to work and use them while they are at their computers.
We make ours with pockets so the contents distributes evenly throughout the area for a deep even heat.. It wraps around your sciatic nerve really well to help sooth the pain.