Red Gingham Retro Full Women Aprons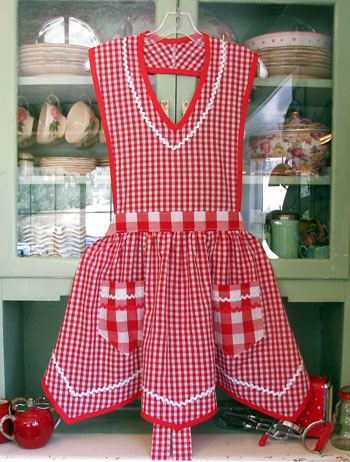 Victory Full Apron in Red Gingham #173 $59.95 ex large $65.95 girls #4000 $49.95
The red gingham is lined in red trim and white rick rack straight out the 1940s with darling large gingham pockets. . A year round style that can be worn anytime.
White rick rack and red trim are very old fashioned and yet stylish. When you are not wearing this you may hang it on a hook in your kitchen to decorate your home.
A beautiful Stylish Apron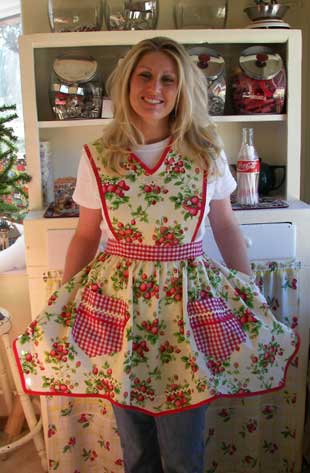 We make this up in the strawberry that is below, his pattern is not available but we wanted you to see how very cute this one is.
This comes is a pretty strawberries with red gingham and red trim with white and red rick rack on the pockets and all around the bottom. It sets off this beautiful retro style that is washable to last. It is sure to make many memories through the years. It is oh so retro sure you will love it.
See how comfortably it fits over your shoulders. Cute with red gingham pockets with white and red rick rack on them..
Strawberries with red gingham around the waist, a very pretty apron.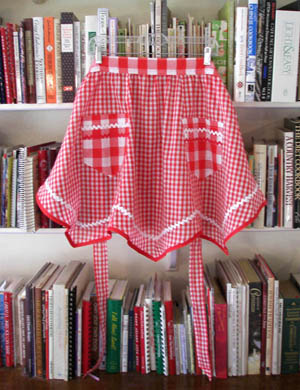 Victory Red Gingham half aprons #318 $47.95 ex-large $52.95
Victory retro red gingham with larger gingham pockets from the 1930s 1940s through 1950 style.
Three panel old fashioned half apron with matching V pockets, red trim on the bottom and rick rack too for that look you remember your mother and grandmother wearing.
Blue with white rick rack is darling.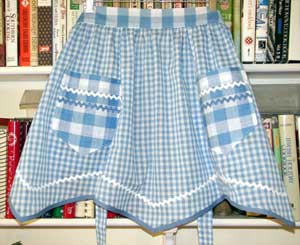 Victory Half in Blue Gingham #334 $47.95 ex lrg $52.95, girl #453 $43.95

Blue Gingham has a retro look that has lasted through time and is still timeless Old fashioned white rick rack, and blue trim on the bottom and pockets with contrasting larger gingham on the waist and pockets for a finished touch.