Homemade Raspberry and Apricot Jam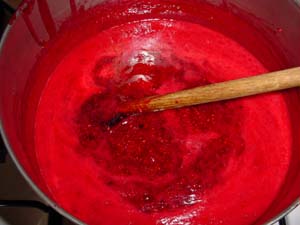 Raspberry Jam
Prepare your jars and lids the same as the apricot jam recipe. Wash your raspberries ants seem to love raspberries. If you have currents or other types of berries these help the raspberries go farther and make a wonderful mixture of berries.
I put my raspberries in a large measuring cup a little at a time and barely crush with a potato masher. I want to just make sure they are broke down but not liquid. When you have measured out 5 cups of crushed berries put in canning pan and add 1 package of pectin, Ball and Kerr both have a good pectin or you may buy the liquid type. I usually double my bath even though they say not to, cuts down on the time for me which is very valuable.
Bring raspberries and pectin to a boil over low to medium heat.
After the mixture starts to boil you add your sugar. Have your sugar pre measured and ready to pour in. It makes the process go smoothly. The Ball pectin recipe calls for 7 cups of sugar, I use only 5 cups and that seems more then enough for me. You have to cook the jam longer but I like my jam a little runny, as I said with the apricot jam recipe, I don't like my jam to be cement.
When the raspberries come to a boil again (keep on low to medium heat) and make sure you stir it so it doesn't stick to the bottom and burn. Boil until it has thickened to the consistency of where when you drop it out of a wooden spoon it comes on with a little thickness, not runny. To me it reminds me of a bad case of cellulite sorry about the description but the best I can do without showing you in person.
Ladle into jars like I have described above in the apricot jam recipe, put on wax if you desire, wash the rim and put on caps and lids. Let sit for 24 hours before washing and labeling. I like to label on the lid instead of the jar so I can just throw my lid away and not have to scrub the labels off the jars next year. The least amount of work when I am canning the better.
We are not responsible for any recipe or food problems you may incur while canning, you may try it if you like but we are not responsible for any damage or problems you encounter while canning.
Always check your canning books recipe before canning as it may change for your area depending upon the altitude. It is important to preserve your food safely. It is always a good idea to check with your local extension office. I have found some wonderful booklets on all sorts of things, drying and canning at a very low price there. The ball canning book is one used often.
We are not responsible for any recipe or food problems you may incur while canning. This is a recipe I use, you may try it if you like but I am not responsible for any damage or problems you encounter while canning, this is just a recipe that has been working for me for many years.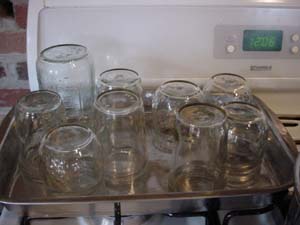 Pint Jars ready for Jam
I like to sterilize my pints in water. You have to be careful not to burn yourself, always use safety when canning. I put water in a large cake pan or something that will hold the water and jars. I bring it to a boil and let simmer for a few minutes to sterilize it.
Some people use a dishwasher only but I use both when I have a dishwasher.
You may opt not to use wax and instead put your lids on and run them through a steam bath for the amount of time it takes to sterilize and seal the jam after the jars are filled with jam.
I always wear aprons when canning it keeps me clean and I feel like good in it, be careful when canning, it can be a fun experience, but you don't want to get burnt.
The steam from the water bath can also cause bad burns.