tel: 435-648-2141




TOYS



Thanksgiving


CHRISTMAS


Cookbooks




Cloth Face Masks

Canning Raspberry and Apricot Jam
Free Recipes
Apricot Jam click for recipe We love apricot jam. This recipe has less sugar and it great for toast and pancakes. I use it to cook with in many of my recipes.
Raspberry Jam, click for recipe Raspberry jam is just the best! Great on pancakes or toast.
Apricot Pineapple Jam click for recipe If you like pineapple with your apricot jam you might like this recipe.
Drying Apples
Use slightly tart eating apples as opposed to "cooking apples." Rome Beauty, Northern Spy, Jonathan, Baldwin, Wine sap, Graven stein, Golden Delicious, and Red Delicious work well. Choose mature fruit that is evenly colored and not bruised.
Wash and peel apples, you may leave peelings on if you like them with them on. Optionally drop fruit in an ascorbic acid bath to prevent browning. I use concentrated orange juice in water or sometimes white vinegar. I don't usually use ascorbic acid. This is something purely personal, after all these are your dried apples.
For indoors start dryer at 130 degrees, increase to 165 degrees after about 1 hour. I turn my apples often. If you are using a cooking sheet in the oven be sure to spray with Pam or use oil on soft cloth so apples won't stick. You don't want excess oil on pan, just enough to make the apples not stick. When most of the moisture has left the fruit, lower the temperature to 145 degrees and regulate it between that temperature and 130 degrees as needed to prevent scorching. Stir and turn fruit on trays frequently as it finishes drying. Apples should dry in 6 hours or less under controlled heat.
For Outdoors dry in the sun for 1 to 3 days. Some say sulfuring is required but I personally never use it, I like mine natural and I have had mine last for years. Place the fruit one layer deep on trays and cover with cheesecloth or other light fabric during drying. If you use screen be sure and don't use galvanized, use fiberglass screen you get at the hardware store, its cheap and you can make drying trays quite easily. My father made me years ago an enclosed dryer for outside, I love it.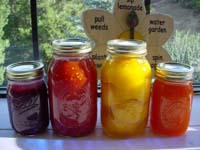 Plum Jam, Canned Tomatoes Canned Peaches, Apricot Jam.
Syrups for canning
I prefer the extra light and go a little lighter on the sugar, I feel if I want a lot of sugar I can add it when I open them up in my recipe, maybe I'll want to use honey.
Extra Light
Sugar 1 1/4 cups
Water 5 1/2 cups
yield 6 cups

Light
Sugar 2 1/4 Cups
Water 5 1/4 cups
Yield 6 1/2 Cups

Medium
Sugar 3 1/4 cups
Water 5 Cups
Yield 7 Cups

Heavy
Sugar 4 1/4 Cups
Water 4 1/4 Cups
Yield 7 Cups
We are not responsible for any recipe or food problems you may incur while canning, you may try it if you like but we are not responsible for any damage or problems you encounter while canning.
Always check your canning books recipe before canning as it may change for your area depending upon the altitude. It is important to preserve your food safely. It is always a good idea to check with your local extension office. I have found some wonderful booklets on all sorts of things, drying and canning at a very low price there. The ball canning book is one used often.