Cloth Face Masks
Wire on the nose helps to tighten air around the nose and gives you a better fit. We also have a V in the nose for a fit that helps make it more comfortable and you don't have to keep touching your face to pull your mask up. The wire and V make a good fit.
Made in the USA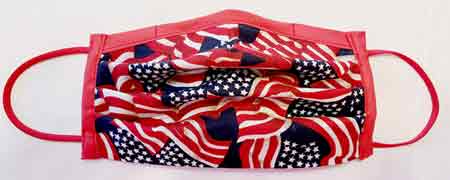 American Flag Face mask in men women and kids $14.95
Wire around the nose with four layers. Cotton on the outside and the inside against your face with two layers of interfacing on the inside of the mask.
We have a variety of material for men women and kids.
We will be making up our face masks in many of our cute apron material we have on our web site.
Soft elastic around the ear for more comfort. Washable
Made in America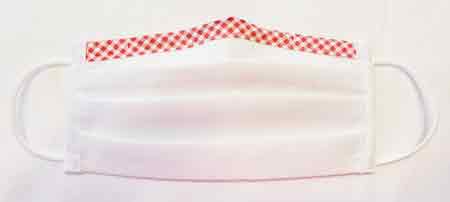 Women Face Mask white with red gingham on the top
White with red gingham top face mask, fitted nose on the top. It is available in many of our other fabrics in men women and child sizes. Call us at 435-648-2141 to order a special fabric.