1940 Red gingham aprons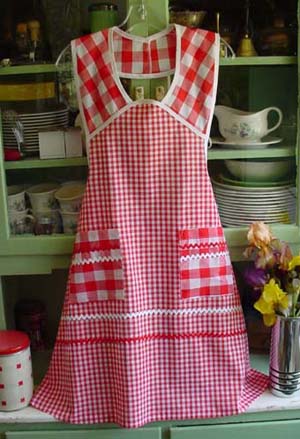 1940 red gingham retro apron number 121 $54.95 extra large $59.95 girls 204 $39.95 large $44.95.
Step back in time in our Vintage apron line. 1940 red gingham attractive with pretty trim that makes you step back to the 1940s, one your grandma could have worn during the war. Long ties make this comfortable and large gingham pockets and top add to the beauty. It will not only look pretty on you, but keep you clean.
This is what was worn by fifty volunteers at the Veterans Day celebration in the South and given to the Veterans wives.
Customer comment
Dear Lorraine,
The aprons were a HIT and are mentioned in so many of the "thank you's" we have
received. We had over 1000 in attendance and the night was magic. The WWII
Veterans were so appreciative. I will send you pictures of the D-Day celebration.
It was so funny at the party because an announcement was made
that anyone wanting to dance and needing a partner was to just find a woman in a gingham apron and that lady would dance. The orchestra was wonderful, playing all the hits from the 40s.
Once again, thank you so much for all you did to make our party a success!
You will hear from me soon.
Very Sincerely, Stephanie
Blue gingham retro half apron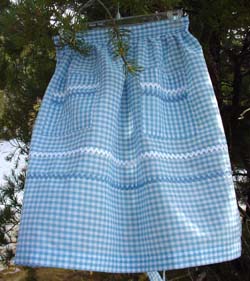 Old Fashioned Blue Gingham Retro half aprons. Women's half aprons number 302 $52.95 extra large $57.95 girl half aprons number 407 $45.95.
The striking blue and white gingham half apron is soft with the same nostalgia look you remember from your mother and grandmother. Blue and white rick rack set add to the retro look. Large pockets and long strings helps with a good fit you can have many years of enjoyment. Old fashioned half aprons in woman and girl sizes.