Dog and Cat Christmas stockings

707 Dog or Cat Paw Christmas stockings brown with blue trim $39.95
Pet stockings with brown fur and blue trim. Hang it on your mantle or wall for your special pet this holiday. We sew around the paws if you look to the right so they are more washable and will last. Blue pom poms around the top of the stocking with penguins snowmen and gingerbread men.
Soft fur and washable to last for years. For your special someone.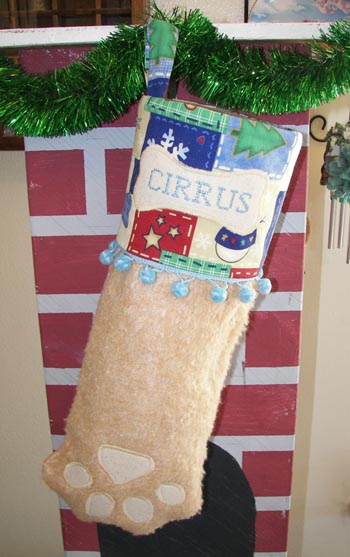 701 Dog or Cat Paw Christmas stocking tan with blue trim $39.95.
This paw stocking comes in tan or brown fake fur for a pet or person who loves animals. Dog prints are sewn on so you may wash it for years of enjoyment.
They deserve a stocking too, the fake fur is soft and perfect for a fun holiday with you and your family.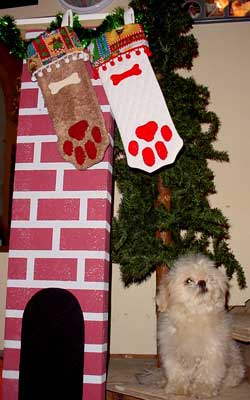 Dog or Cat Paw Christmas Stocking $39.95
Hang their stocking next to yours so Santa can fill all of them at the same time. Dog not included but we are sure you have your own sweet pet to get one for.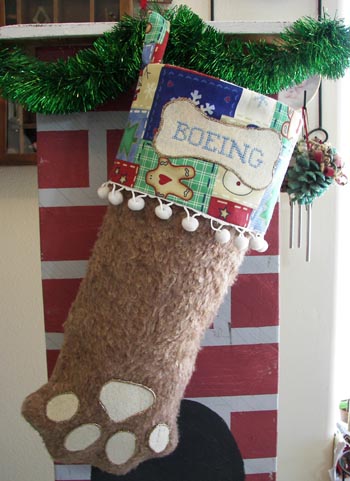 708 Dog or Cat Paw Christmas Stocking brown fur with white trim. $39.95
Dog stocking with brown fur and white trim. The top is fun Christmas cookies, snowmen and many more. White pom poms around the top and a sturdy hanger so their stocking will hang next to the family ones waiting to be stuffed with Christmas goodies.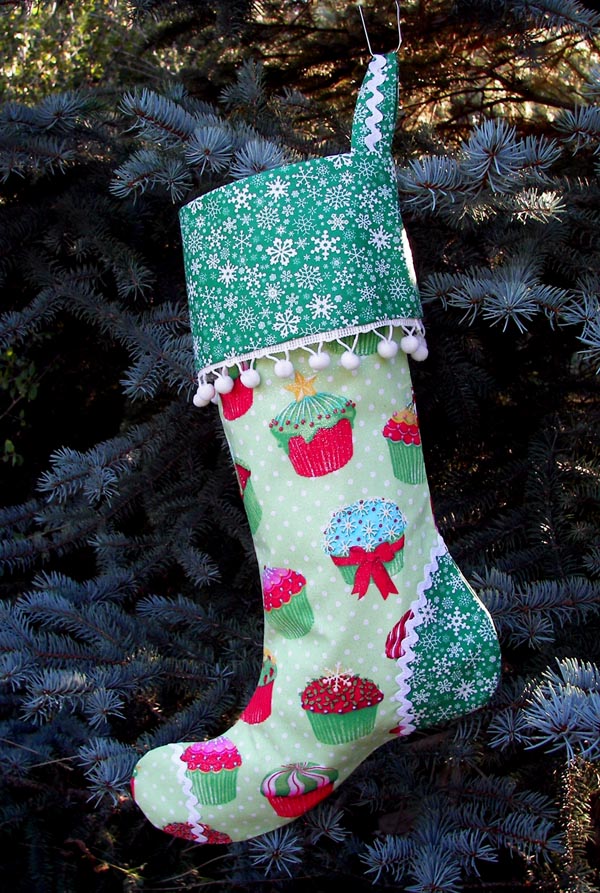 Christmas stocking Cupcake with green polka dots and snowflakes on the heel and top number 712 $39.95. Washable to last for years.
It is lined inside with cupcakes and glitter on the outside. Pretty Green Polka Dot background that sets off the decorated cupcakes topped with snowflakes, and peppermint frosting, pink frosting, blue frosting, just darling. Everything you think of during the Holidays.
White Rick rack and white pom poms decorated with small crystal like sparkles on this pretty material for something you will love.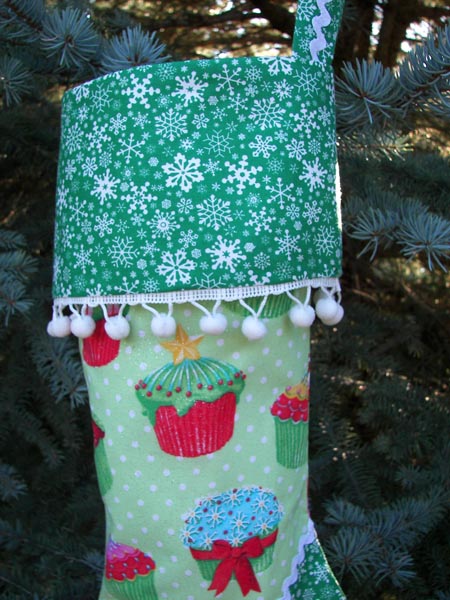 Christmas stocking close up #712.
Christmas Stockings are reversible so you can hang them either direction and all of them are fully lined. The cute pom poms around the top are sewn on to last.
When baking Christmas cupcakes look at the cute ideas on your stocking and have fun decorating your cupcakes with the family.