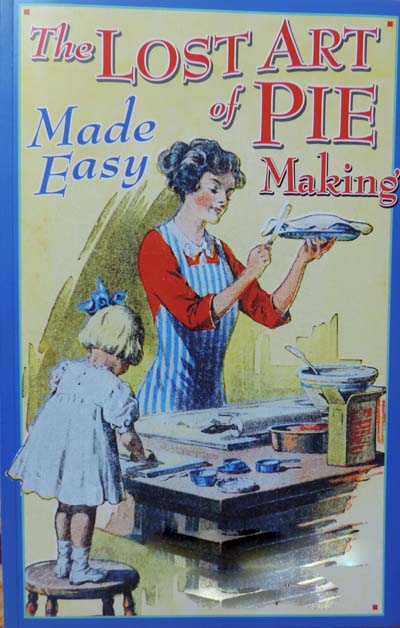 Pie Making Made Easy $8.95
Come home to pie! This witty and fun cookbook shows you how to make a darn good pie in a jiffy. You will feel like you're back in your grandma's kitchen as she shows you how she rolls out her flaky, tender pie crust. Recipes date from 1831, many from 19th century handwritten cooking journals. Includes old-time pie lore, pie insults, why men love pie, pie contest tips, vintage photos, historic recipes, and more. Make pies like Rum Bittersweet Chocolate, Vanilla crumb, Apple/Pear Mince, Sour Cherry Amaretto, Fresh Raspberry, Louisiana Peanut, as well as quick flip pies, dumplings and crisps. 5 ½ x 8 ½, 72 pages.
RECIPES INCLUDE: Pie Crust: Aunt Jenny's Crust, Barb's Butter Crust, Mom Brooks' Crust, Oil Crust, Fruit Pies: Apple Raspberry, Concord Grape, Dutch Oven Apple Cherry, Fresh Blueberry, Fresh Raspberry, Fresh Rhubarb, Green Apple July Berry Pie, Raspberries in Ambush, Simple Summer Fruit, Sour Cherry Amaretto, Strawberry Rhubarb, Lemon Pie: Lemon Custard, Lemon Meringue, Lemon Sponge, Two Crust Lemon, Cream Pie: Banana Cream, Chocolate Cream, Coconut Cream, Orange Cream, Holiday Pie: Apple/Pear Mince, Farmer's Mince, Mock Cherry, Pumpkin, Pumpkin Chiffon, Custard: Chess, Chocolate Chess, Lemon Chess, Coconut, Key Lime, Os-Good, Pinto Bean, Rum Bittersweet, Sliced Sweet Potato, Sweet Potato, Nut Pie: Bourbon Pecan, Karo Pecan, Louisiana Peanut, Mock Pecan (Oatmeal), Quick Pie: Apricot Skillet, Cranberry Surprise, Fruit Crisp, Honey Apple Dumplings, Miracle Cobbler.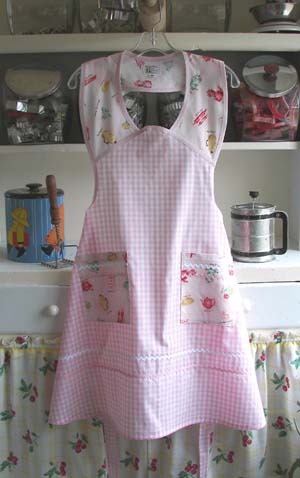 1940 Pink gingham All in the Kitchen Apron
Women Apron #120
Child Girl Apron# 249
All in the Kitchen and pink gingham make a very pretty combination. All in the kitchen is a soft pink with teapots, kitchen bowls, muffin pans, coffee pots, all the pretty fun things used in the kitchen.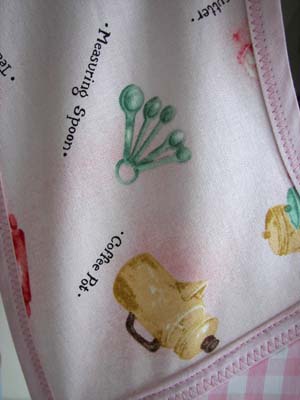 Close up of 1940 Pink gingham All in the Kitchen
A soft pink you'll love. All in the kitchen is a fun kitchen apron material. Coffee pots, measuring spoons, canisters, rolling pins, mixing bowls and other fun kitchen things blend beautifully with the pretty pink background.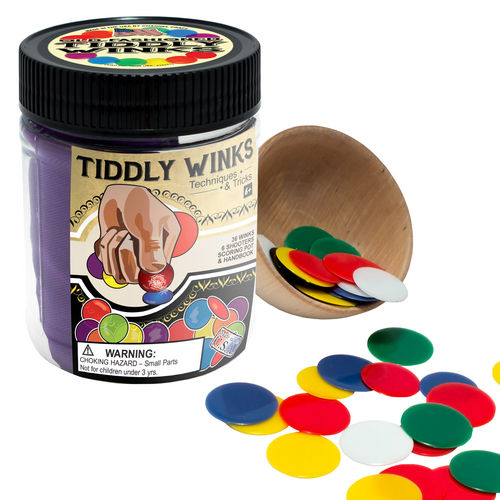 Old Fashioned Tiddly Winks #203 $9.95
36 Winks and 6 Shooters in 6 colors, 2 Wooden Scoring Pots, one for each player and Color canvas pouch in a jar.
Tiddly Winks in a Classic Toy Jar.
20 Page Handbook on history, game rules & techniques included.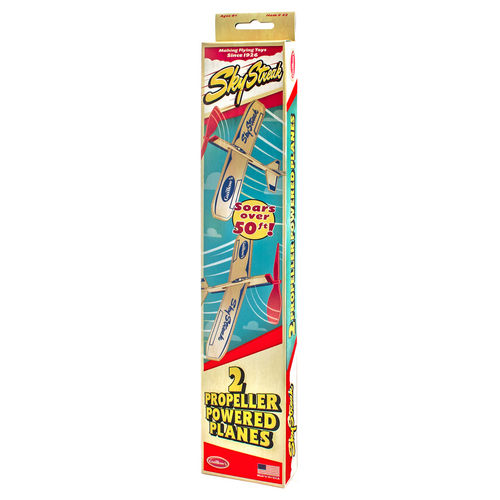 Old Fashioned TOY AIRPLANE WITH RUBBER BAND
2 Airplanes per Pack
#206 $7.95
The original Guillow's Balsa Wood Planes from more than half a century ago. The original Guillow's Balsa Wood Planes from more than half a century ago. Two prop planes are included that soar up to 50 feet. Airplanes just like when you were a kid.
MADE IN AMERICA!
Old Fashioned Toys
Whirly Skytops $5.95
Derived from Leonardo da Vinci's design for submarine propulsion, this hand prop is more fun in the air! Complete with flight instructions.
Put this in between your hands and twirl this in the air. An old fashioned toy both boys and girls will love.
Whirly Skytops for your Christmas Stocking.

Men Blue Gingham Aprons
Men Apron #5000 $59.95


Barbecue man apron in blue and white denim gingham. This fantastic man apron has plenty of pockets for salt pepper and seasoning. It has a hook on the side for hanging barbecue tools.
The pockets are pleated for more room, with silver rivets on the top of each corner. Top Pocket has a snap, and place to put a pencil or condiments. There are three white loops to put a cooking utensils or tools in. This apron can be worn in the kitchen, at a BBQ, or in the workshop. Machine washable.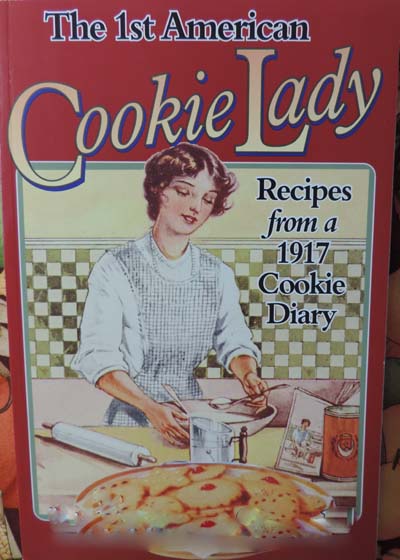 1st American Cookie Lady Cookbook $16.95
The 1st American Cookie Lady is based on a fascinating mystery. In 1917, Anna "Cookie" Covington set out to record all her favorite cookie recipes as a gift to her daughter because no published cookie recipe books existed at that time. Strangely, her 76 page handwritten personal cooking diary was never delivered to her daughter as planned. 88 years later, the unused diary fell into the hands of food historian Barbara Swell, who recognized it as perhaps the earliest collection of American cookie recipes, dating from the mid 1880s up through World War I. The 1st American Cookie Lady includes Anna's 221 recipes recorded from 1917-1920 along with adaptations for the modern kitchen, vintage graphics and photos, World War I food shortage recipes, plus curiosities of cookie baking history. 6″ x 9″, 152 pages.
Recipes: Sugar Cookies, Best, Blitz Kitchen, Cookies, Cream Cookies, Plain Dew Drops, Drop, Egg less, Fairy, Fancy, Irene's Light, Lady Fingers, Lemon, Mother's Orange, Plain, Quick, Rock Royal, Sand Tart, Shingles, Shrewsbury Cakes, Snicker doodles, Soft, Sour Cream, Sour Milk, Sponge, Sugar, Thin Rich, Shortbreads, Cocoanut, Scottish Petticoat Tails, Shortbread Varieties, Molasses Cookies, Brown Cookies, Chewy Molasses, Drop Molasses, Cinnamon Drops, Gingerbread Folks, Jungle Drops, Mama Drop, Maple Molasses Ice Box, Molasses, Roxbury Drops, Spice Cake Drops, Wine Drops, Ginger Cookies, Ginger Cookies, Ginger Drops, Ginger Snaps, Iced Ginger Cookies, Laughing or Fun Nuts, Sour Milk Ginger, Filled Cookies, Filled, Fig, Fig Bars, Filled Cookies, Rum Raisin , Peek-A-Boo, Fruit Cookies, Applesauce, Armon, Boston, Currant, Edenkobers, Fruit Bars, Drop, Hazel Hermits, Not Baked Fruit, Pepper-Kobers, Prune Rhubarb Rock, Chocolate Cookies, Brownies, Boston Brownie, Chocolate, Chocolate Nut, Cocoa, Pinwheel Cookies, Chocolate Orange, Marble, Mocha, Ribbon, Whole Wheat Cookies, Bran, Graham, Peanut Butter Grahams, Cornmeal Cookies, Colonial, Corn Meal, Corn Meal Hermits, Oatmeal Cookies, Brandied Raisin Drops, Filled Oatmeal, Gridly Oatmeal Oatcakes, Rolled Oat Rocks, Sour Cherry Amaretto, Coconut Cookies, Cocoanut Balls, Cocoanut Cream, Cocoanut Jumbles, Cocoanut and Oat Meal, Macaroons & Kisses, Almond Macaroons, Cocoanut Kisses, Hickory Nut Kisses, Peanut Cookies, Bermuda Peanut Wafer, One Egg Peanut, Peanut Butter, Peanut Snaps, Other Nuts Cookies, Almond Spoonie, Nut Bars, Nut Jumbles, Walnut Drops, Wafers, Benne Seed Wafers, Brandy Snaps, Oatmeal Lace, Interesting Flavors , Anise, Caraway, Carrot Marmalade Cookies, Castor Oil Cookies, Cigarettes Cookies, Coffee, Delicious, Rhubarb, Spencer, Swiss, Springerle Tea Cakes, WWI Cookies, Barley and Rolled Oat, Fancy, Honey, Mashed Potato Cookies, Nut Crisps, Oatmeal Macaroons, Rhubarb Marmalade, Rice, Rolled Oat Crisps, Rye Drop Cakes, Shorts Cookies Plain, Toasted Wheat Germ, War Cookies.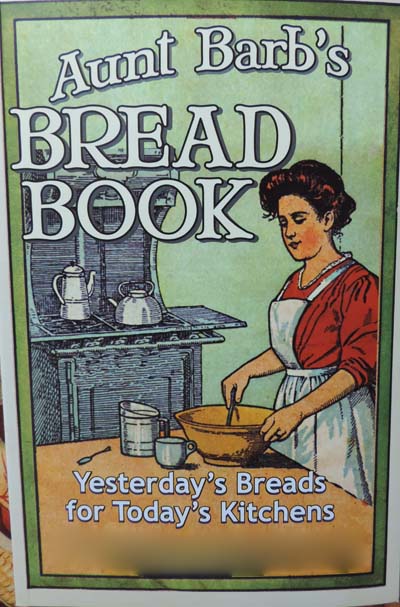 Aunt Barb's Bread Book $8.95
Bake up your great grandmother's wholesome, tasty hearth-baked breads in your own kitchen today! You'll be amazed by the stunning loaves and rolls you pluck from new or vintage cast ironware, baking stones, or everyday gizmos that produce yesterday's radiant cooking environments for your modern oven, wood fireplace, or campfire. Recipes from 1820 through 1920 include harvest apple bread, whole-grain little gem breads, oat sandwich loaf, buttermilk rolls, and lots more. Cookbook contains oodles of period photos and bread-lore and is appropriate for all skill levels. 5 1/2 x 8 1/2, 72 pages
YEASTED BREADS: Apple brown bread, Boston, brown bread, brown bread, home-ground wheat bread, honey cornmeal bread, mid-morning peasant loaf, oatmeal bread, orange currant rye bread, overnight un-kneaded bread, overnight un-kneaded cheese bread, overnight un-kneaded pizza dough, overnight un-kneaded whole grain bread, rustic country sourdough bread, rustic farmhouse family bread, rye and Indian, third bread, welsh pan or pot bread, wild yeast (sourdough) bread. LITTLE BREADS: buttermilk rolls, herbal crescent rolls, monkey bread, onion poppy seed billies, potato Parker house rolls settlement bread, whole wheat English muffins, GEMS: apple gems, corn bread gems, graham gems, half-cup threaded gems, popovers, orange marmalade.

Dog Scarf
Old Fashioned Toys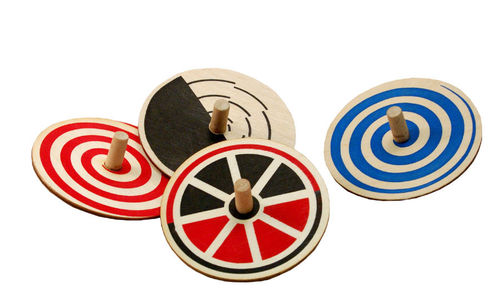 Whirligig Tops $2.95
A variety of a four optical illusion tops with explanation on the opposite side.
This old fashioned top is easy to use for any age. An inexpensive gift but one that will be enjoyed.
Old Fashioned top is made of wood in the U.S.A. as are all our toys.
A spinning top like the old fashioned ones kids and adults will love.
Old Fashioned Jacks and rubber ball are easy to use and a fun game to play.
Fill the Christmas Stockings with Old Fashioned Toys for all the family to Enjoy.
MADE IN THE U.S.A.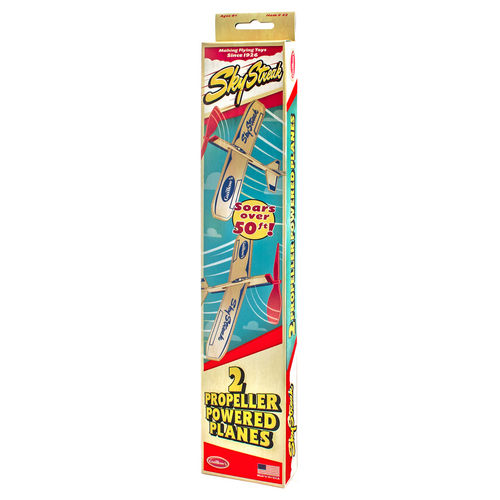 Old Fashioned TOY AIRPLANE WITH RUBBER BAND
2 Airplanes per Pack
#206 $7.95
The original Guillow's Balsa Wood Planes from more than half a century ago. The original Guillow's Balsa Wood Planes from more than half a century ago. Two prop planes are included that soar up to 50 feet. Airplanes just like when you were a kid.