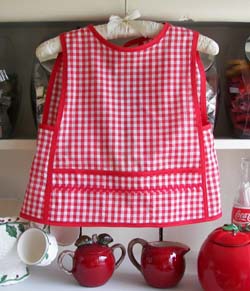 Small child apron in red Gingham
#201 $24.95
This darling toddler, baby, or little girl or boy apron will grow with your child.
Three pockets in front for their tiny hands to put fun things in. Covers around back to help keep clothes clean. A perfect baby bib for an older child.
Apron grows with your baby..
100% washable.
MADE IN THE U.S.A.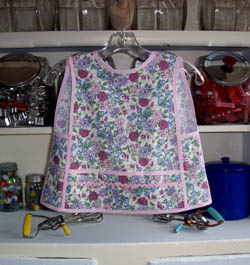 Small Child Fantasy Garden
#222 $24.95
Child apron with pink trim and ric rac. An apron that will grow with your special little one. Have fun in the kitchen while you create memories for you and your little girl. We have women aprons in this same beautiful floral apron.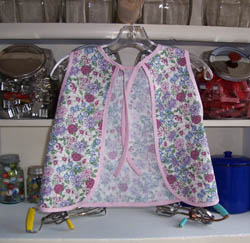 Small Child Fantasy Floral back #222
Child apron covers front sides and back with easy tie in back.
Pretty trim all the way around the apron and tie.
Get matching aprons for mother and toddler.
This darling toddler apron is available in all our pretty material.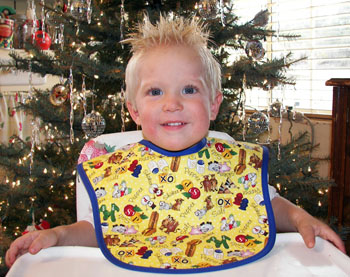 Yellow Salt & Pepper Shaker with Blue Trim Bib
#3023
$9.95 or buy 2 bibs or more (can be different bibs) $9.49 each
Yellow lovers with a variety of souvenir salt and pepper shakers, cars, food, and animals. The back is in yellow and white gingham. The trim is in blue.