1944 Christmas Holiday Ribbon half apron
Women Half Aprons #319 $57.95
This pretty 1944 half apron also is available in Red, blue, yellow, pink, lilac gingham, lilac pansy and rose bouquet. For the Holidays, Old Fashioned Christmas, Holiday Ribbon, Magic of Christmas Rose and Halloween Hokus Pokus half aprons.
Old Fashioned Christmas half apron. Soft flowing curves with blue trim around this pretty half apron with matching pockets.
The pockets are of carolers while the front and side are a pretty blue with ribbons, small flowers and holly.
A beautiful Christmas half apron to wear long after the Holidays are over. Very retro!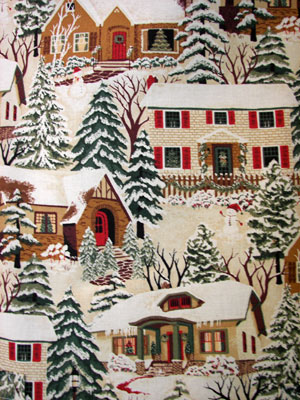 1944 Old Time Village Christmas Woman Half Apron #40039

1944 half apron comes in the Beautiful old fashioned Christmas Village complete with snowman, wreaths and Christmas Trees.