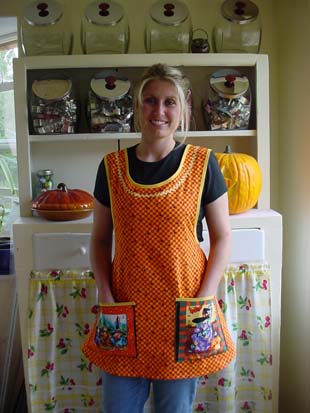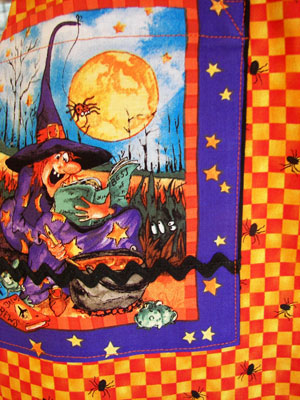 Pocket close up - one of five different pocket styles of witches, pumpkins everything Halloween!
Hokus Pokus Halloween Woman Apron
Orange Yellow Woman Halloween Apron #144 $49.95
A fun Halloween apron that you can decorate yourself this holiday season. Black spiders on orange and yellow gingham with fanciful pockets of witches, pumpkins, ghosts, moon, bats and goblins. The Perfect Halloween apron decoration.
Each Halloween apron has a variety of pockets with different pictures and sizes. You'll love the look.
Rick rack around the top of Halloween apron with matching trim on arms, neck and top of pockets.
Old Fashioned Halloween apron you will enjoy.
If you are a Halloween fan this apron is a must!
Each pocket of the Hokus Pokus apron is a different fun scene. Witches, pumpkins, or ghosts with spiders on orange gingham on the apron.
Rick rack around the neck for that old fashioned look. Hokus Pokus Apron rests comfortably on your shoulders so it doesn't pull on your neck. Apron size is small, medium, large and ex-large.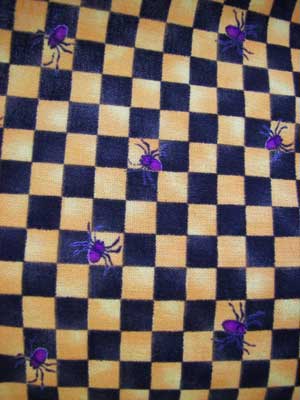 (CUTE!)
1940 apron also comes in this pretty black yellow gingham with purple spiders.
1940 Woman Apron #113 $49.95
Child Apron #33003 $45.95