Made in AMERICA

Thanksgiving Holiday aprons. Beautiful Thanksgiving apron to wear for the Thanksgiving Holiday. Decorate yourself in a stunning Thanksgiving apron and wear it through Christmas.
Thanksgiving table runner, Decorations for the Thanksgiving Holidays!
Enjoy the Thanksgiving and Christmas Holidays with pretty Thanksgiving decorations, table runner and Thanksgiving apron.
Decorate yourself for Thanksgiving and Christmas in a
n Old Fashioned Thanksgiving and Christmas
Holiday apron.
To Order safely Click here for secure web page
Decorate yourself, your home and your table this Thanksgiving in style.
Decorate yourself for Thanksgiving while keeping your clothes clean in the kitchen!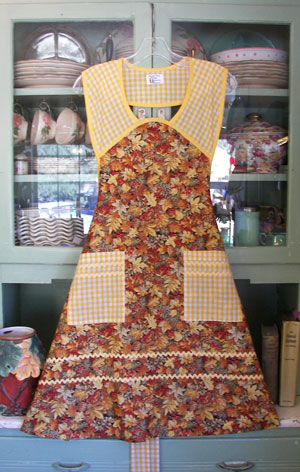 1940 Autumn Leaf
Woman Apron #1083 $49.95 Extra large add $5.00
Child Apron #298 $39.95
1940 Apron in Autumn Leaf. A spray of autumn leaves, gold and multicolored brown with red berries, a bouquet of fall.
Gold and white contrasting gingham with matching ric rac add to the beauty of the apron. An apron you may wear throughout the Thanksgiving holidays or anytime of the year.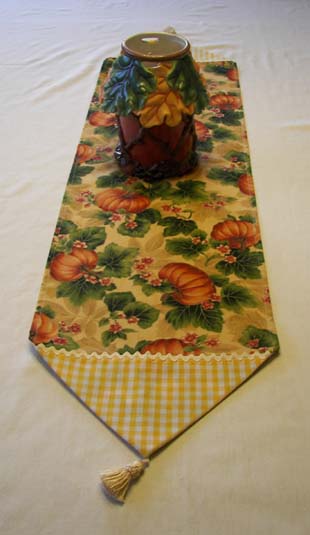 #801 Thanksgiving Table runner, the perfect Thanksgiving Decoration. 12" x 47" $38.95
Thanksgiving Table Decorations perfect for the Thanksgiving table decorating.
Thanksgiving table runner with pretty pumpkins, pumpkin leaves on a golden background.
Golden tassels on the end of gold pointed ends will make this a pretty Thanksgiving table decoration.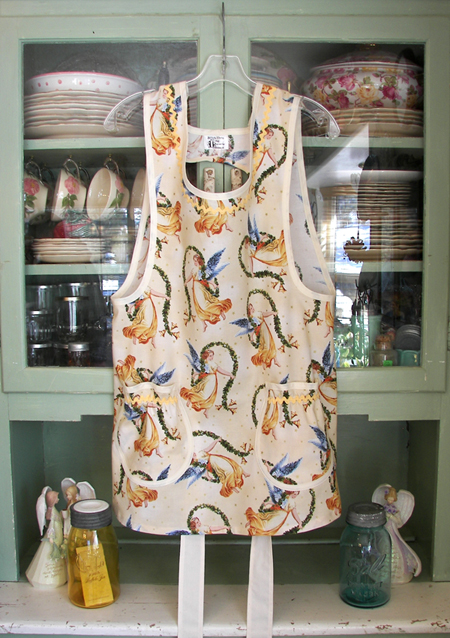 Grandma Apron Angels on Cream
Women Aprons #2139 $49.95
Grandma apron with angels on a soft cream background with golden stars and bells. You may wear this pretty Angel apron year round. It is wonderful for Thanksgiving, Christmas or anytime you want a beautiful Angel apron.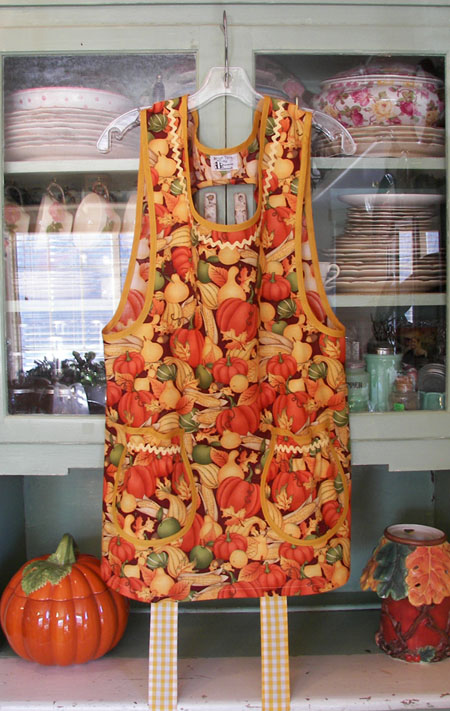 Grandma Apron Pumpkin Harvest
Grandma Woman's apron #163 $49.95 ex-large add $5.00
Available with square or round pockets
Grandma apron in a pretty Harvest gold with pumpkins, pumpkin leaves, small blossoms on a pale gold background.
A Thanksgiving apron perfect throughout the Holidays. This pretty apron is pretty enough to wear year round.
Pretty gold gingham apron ties with rick rack on apron top and gathered round pockets.
Beautiful Thanksgiving harvest apron you'll have fun wearing.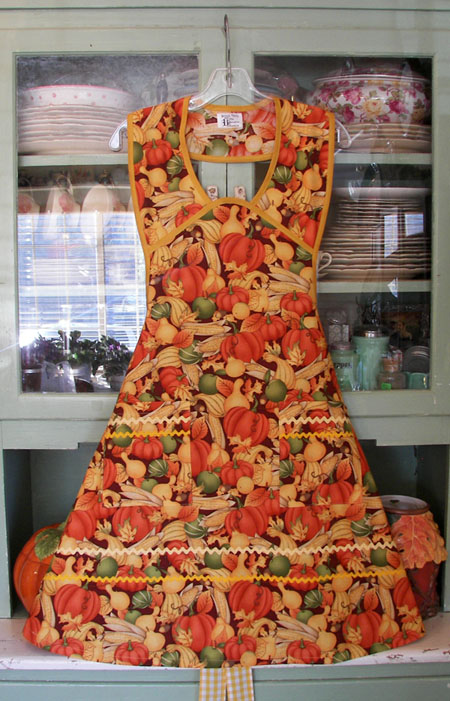 1940 Pumpkin Harvest Apron
Woman apron #169 $49.95 ex-large add $5.00
Girl Apron #207 $39.95
1940 Holiday apron with all the things you think about during harvest time. Pumpkins surrounded by corn gourds and pumpkin leaves. Mother and daughter matching aprons in an apron to wear throughout the Holidays.
You'll love this gorgeous fabric in our 1940 apron. Wear this apron Thanksgiving, Christmas, Halloween or year round.
Orange pumpkins on a brown background with green pumpkin leaves and gourds.
Pale gold trim around apron and apron pockets with gold rick rack on pockets and bottom of apron.
Thanksgiving Table decoration on you and your table!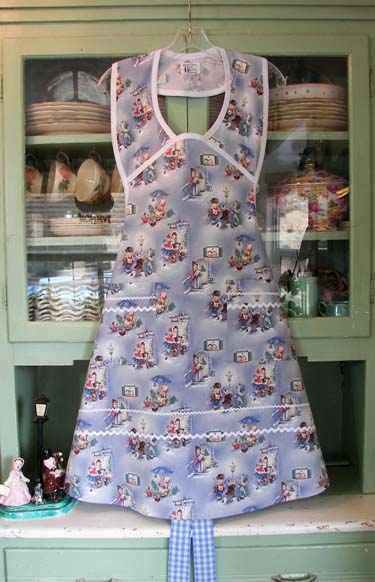 1940 Apron in "Christmas Carolers"
Woman Apron #2027 $49.95
Child Girl Apron #307 $39.95
1940 Apron in nostalgic Christmas Carolers. A Soft blue background with singing children and dog. Old Fashioned lamp post and Victorian children. All we can say is cute cute cute! This darling Christmas apron reminiscent of Christmas past. Christmas Carolers, Christmas trees, Victorian style children looking in the window at toys. A fun Christmas apron you'll love. Available in all our apron styles.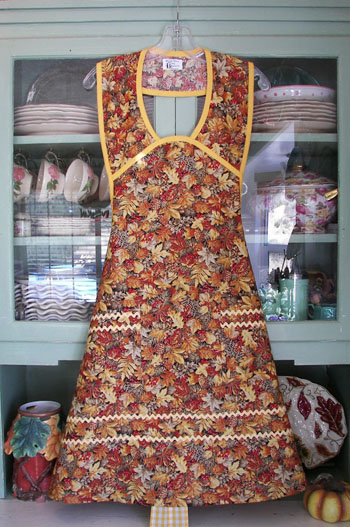 1940 Autumn Leaf All Over
Woman Apron #2061 $49.95 ex-large add $5.00
Child #316 $39.95
You won't find these pretty leaves outside year round, but you can enjoy them along with holly and pine during the Thanksgiving holidays adorning yourself in this pretty 1940 full apron. You will be the Thanksgiving decoration. Not only will you look nice but will enjoy your time in the kitchen while keeping your clothes clean.
100% washable aprons that will last your for many happy memories.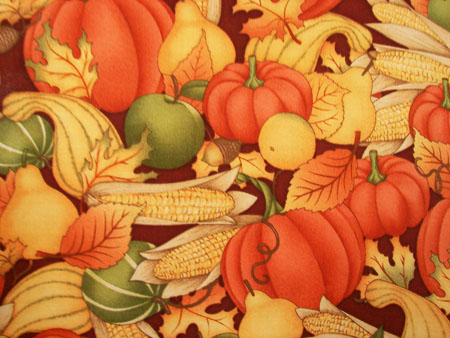 Aunt Violet style "Harvest Apron"
Women's Apron #106 $50.95 Ex-large add $5.00

Aunt Violet apron in Harvest Gold Pumpkin. A Thanksgiving apron for throughout the Holidays or just a beautiful apron for everyday in the kitchen.
Thanksgiving Pumpkins, pumpkin leaves and small pink flowers are set off by a pale gold background. Shimmering gold thread accents this beautiful fabric, you'll love it!
Click here to see more violet style aprons in other fabrics.
Thanksgiving decoration on you!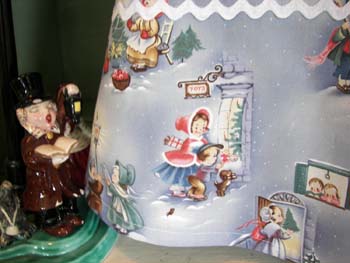 Close Up "Christmas Carolers"
Get ready for Thanksgiving with this beautiful Holiday apron to be worn throughout the Christmas and Thanksgiving Holidays.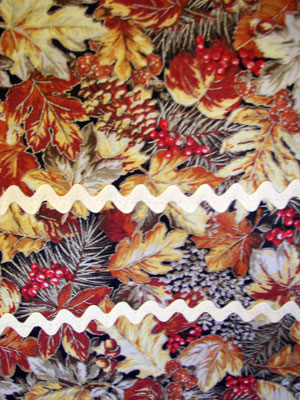 Close Up Autumn Leaf
Beautiful leaf fabric for a prettyThanksgiving apron. Don't wait too long, when this fabic is gone it is no longer available.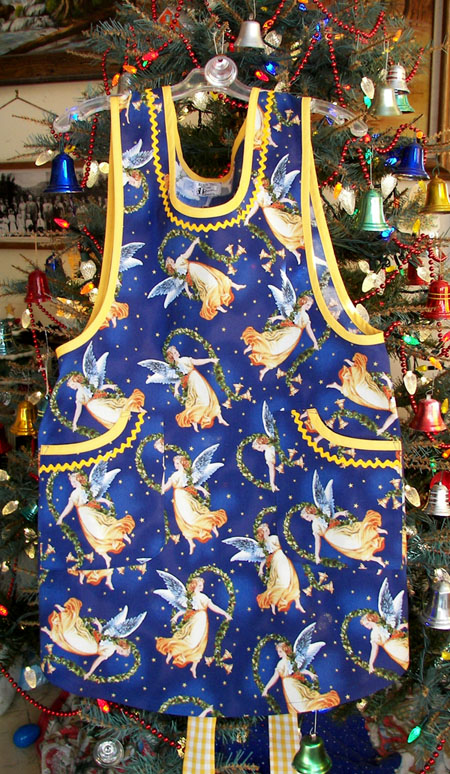 Aunt Violet in Blue Angels
Woman apron #2125 $49.95 ex-large add $5.00
Enjoy angels year round in a beautiful old fashioned apron. Aunt Violet is available in Blue background with Angels holding a garland. Gold stars in the background really make this pretty apron stand out. You can have angels year round on you.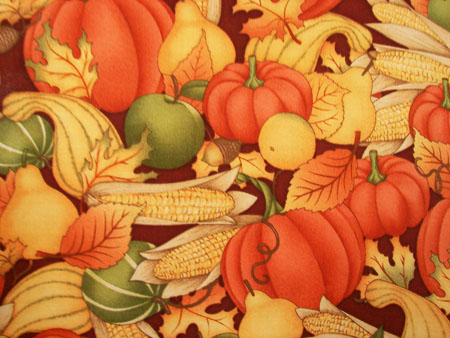 1944 Pumpkin Harvest Half Apron
#352 $53.95
Ex-large add $5.00
Beautiful Thanksgiving apron for all the Holidays!
Pumpkins, pumpkin leaves and gourds on a brown background is a perfect half apron for Christmas and Thanksgiving and throughout the year. Gold trim with ric rac accent this full half apron so it could very well be an all time favorite kitchen apron. 100% cotton for easy washing.

Close Up of Thanksgiving table Runner , a pretty table cloth for Thanksgiving and the Holidays. $38.95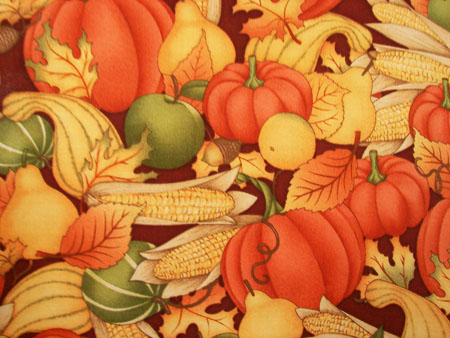 Retro Harvest Gold Pumpkin
Old Fashioned Half Apron
Women's Half apron #380 $47.95
Girl Half apron #438 $43.95
ex-large $5.00 extra
Harvest Gold Pumpkin half apron. A beautiful half apron that can be worn year round. A wonderful Thanksgiving apron, Christmas Apron or Halloween apron.
Pretty gold trim around large apron pockets and the outside of a fun Holiday apron. This beautiful apron is perfect for the Holidays, golden pumpkins on a soft golden background with deep green pumpkin leaves. You'll love to wear this half apron in the kitchen or just around the house.
Thanksgiving, Christmas, Halloween or anytime of the year you'll look beautiful in this lovely apron.
Our half aprons have long apron strings for easy tie. This pretty one has contrasting gingham and pretty rick rack and trim.
1920, 1930, 1940, 1950 & 1960 style half apron.

Decorate your table and home this Thanksgiving with this pretty Holiday decoration that will last for years.
A pretty table decoration that is washable, made of quality fabric.