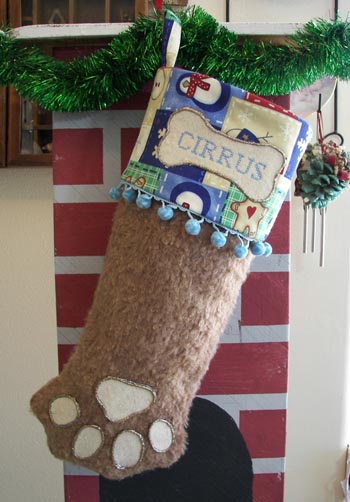 #707 Dog (or Cat) PAW Christmas Stocking Brown with Blue Trim
$39.95
Dog Christmas stocking in brown fur with blue trim. A Christmas stocking to hang with all the Christmas for your special pet.
All our Christmas stocking are made in the United States of America.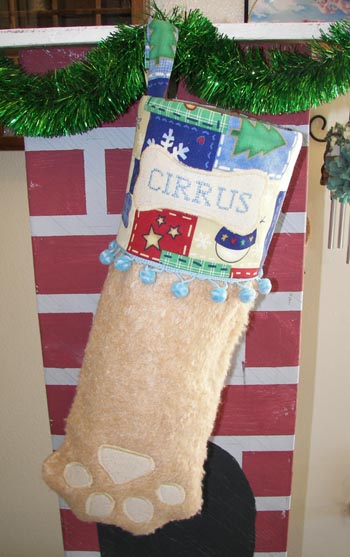 #701 Dog (or Cat) PAW Christmas Stocking Tan with Blue trim
$39.95
This dog paw stocking comes in tan or brown fake fur for a fun Dog or person Christmas stocking. Dog stockings come with dog paw prints.
Your dog deserves an Christmas stocking too! Hang his dog stocking next to yours.
Stitch Thru Time Christmas stockings are made by local artists, each one made to last for many years of enjoyment.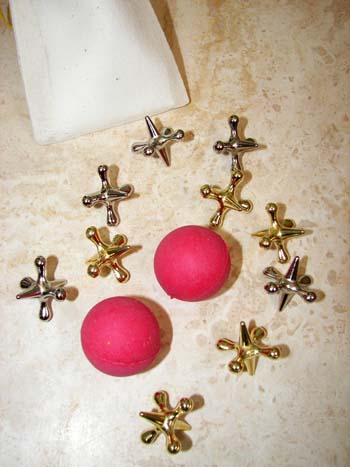 Old Fashioned Jumbo Jacks with 2 Rubber Balls and white cotton carrying pouch $5.95
Old Fashioned Jumbo Jacks with 2 Rubber Balls
Good Quality jacks like you they used to make!
Old Fashioned Jumbo Jacks just like the kind they used to make. Good quality jacks, 5 gold colored, 5 brass colored and 2 rubber balls. Your jacks come with a cotton pouch to carry your jacks and balls in, just like you remember when you were a child.
Old fashioned jumbo jacks with 2 rubber balls, (nice rubber balls) and a carrying case.

Jacks for your Christmas Stocking Stuffer.
Handmade Dog Bone Christmas Stocking. Fun Christmas memories of all the fun things you enjoy at Christmas on a fun dog bone Christmas stocking. Christmas bulbs, poinsettias, snowmen, ribbon, holly, plaid and many other fun things on a 100% washable dog bone Christmas stocking that will last for years.
You can hang this next to your stockings and fill it with your dogs favorite things.
Dog Bone Christmas Stockings for that special dog in your life.
Limited Edition Dog Christmas Stocking
Dog stocking measures approx. 16 1/2 inches long by 7 1/2 inches wide at bottom of bone stocking.