American women owned business, we are made in America
Stitch Thru Time has secure ordering for easy on line ordering.
If you wish to speak to someone in customer service or order over the telephone
you may call us at 435-648-2141.
E-Mail us at Stitch Thru Time
We are happy to answer any of your questions concerning our products. You may call us from 8:00 a.m. to 6:00 p.m. Mountain Standard Time Monday through Friday and Saturday 8:00 a.m. to 5:00 p.m.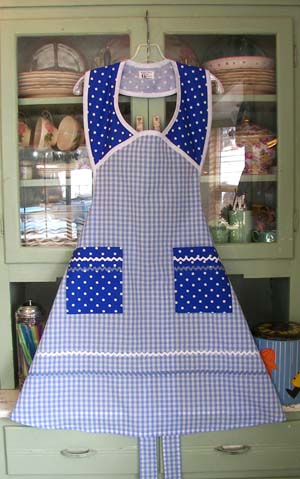 1940 Blue Gingham Blue polka dot apron number 135 $49.95 extra large $54.95, girls 306 $39.95, child large $44.95
1940 style in Blue Gingham with blue polka dot on pockets and top.
A beautiful retro apron for mother and daughter.
Blue and white rick rack with white trim you'll enjoy in the kitchen for years.

Old Fashioned Red & White Kitchen apron with white pockets. You may get the same color pockets if you request it. 2166 $49.95 extra large $54.95
It doesn't get any more old fashioned then this red and white. You'll feel like you are sitting at your Grandma's kitchen table when you wear it. It has a very retro feel so use it to hang in your kitchen or hang it over your shoulders as it rests very well and doesn't pull on your neck.