Dog paw Christmas stocking for the furry part of your family. This cute dog Christmas stocking comes in two fabrics. One is a white quilted fabric with pom pom's on the bottom of a holiday top and dog paw at the bottom. A dog bone in contrasting red fabric matches the dog paw.
The other choice is a brown fur with the same holiday fabric on the top and white pom pom's around holiday top. Maroon dog paw and matching dog bone finish off this cute holiday stocking.
This cute holiday stocking is a keepsake you can keep for years. Perfect for the dog presents you can put inside along with his favorite toys.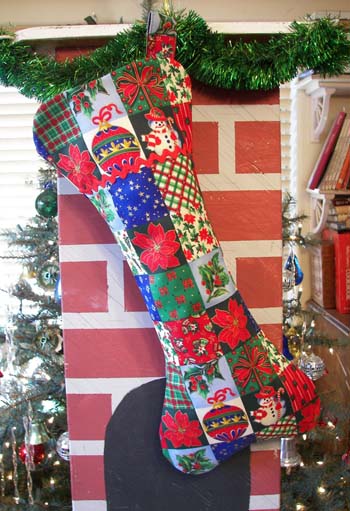 #711 Dog Bone Christmas Stocking $39.95

Handmade Dog Bone Christmas Stocking. Fun Christmas memories of all the fun things you enjoy at Christmas on a fun dog bone Christmas stocking. Christmas bulbs, poinsettias, snowmen, ribbon, holly, plaid and many other fun things on a 100% washable dog bone Christmas stocking that will last for years.
You can hang this next to your stockings and fill it with your dogs favorite things.
Dog stocking measures approx. 16 1/2 inches tall 7 1/2 inches wide at bone bottom.
You might just want this Dog Christmas Stocking for yourself with the playful pets you so love. Christmas Stocking measures 8" wide from toe to heel, and 16 1/2" high.
Dog Christmas Stocking is made in the U.S.A. to last for many fun Holidays.