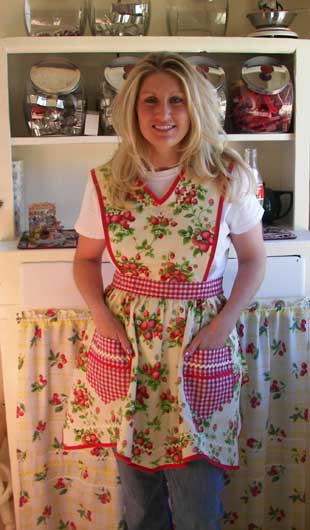 Victory Full Apron Strawberry
Woman #171 $59.95 ex-large add $5.00
Victory Apron comes in a pretty full apron (you can also get it in a half apron). Oh so retro!
Strawberries and strawberry blossoms on a soft cream background with pretty red rick rack and trim like the aprons from the 1930', 1940's and 1950's.
A V front over your shoulders for comfort with pretty red trim around the top and bottom and red gingham pockets with white and red rick rack.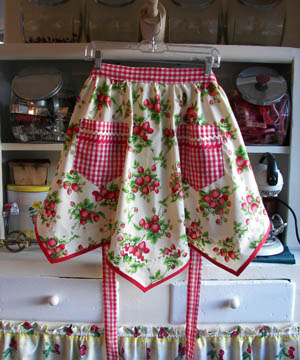 "Victory" Strawberry Apron (material at right)
Woman #315 $47.95
Child - Girl #462 $43.95

1940's Strawberry Victory apron, right out of the 1940's. This oh so pretty apron in strawberries on a soft cream background with ivory rick rack and red trim finish the bottom of this retro apron. Also available in red, blue, yellow, pink gingham, lilac pansy and rose bouquet, paper dolls, Old Fashioned Christmas, Holiday rose and Harvest pumpkin.!
A half apron in Rose Bouquet, polka dot, Christmas & Halloween hokus pokus. Red, blue, yellow, pink and lavender gingham. Our pretty half apron comes in all our pretty fabrics!