Aprons, Apron patterns from vintage aprons. Stitch Thru Time has beautiful apron pattern styles. Retro apron pattern you'll find to be the most comfortable apron you'll ever wear Women Aprons, Girl Aprons.
Apron Patterns of Old Fashioned Aprons, Apron Patterns from Vintage Aprons, Our Apron hangs comfortably on your shoulders, not your neck. Retro Apron pattern like your Grandma used to wear. Ready to Wear Aprons only.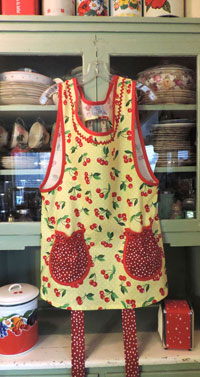 Grandma Cherry Apron #2179 $49.95
Grandma old fashioned apron with cherries on yellow polka dot with red polka dot pockets and long apron strings
Cherries with red polka dot pockets and long apron ties. Old Fashioned Grandma aprons for new memories with your family. Decorate yourself and your retro kitchen with cherries and polka dots!
A comfortable apron that does not pull on your neck, but rests comfortably over your shoulders.
Cobbler smock apron that covers and looks pretty.
Our customers call this Aunt Bee apron. You may have seen your grandmother in this apron. It covers front and sides to keep your clothes clean.
You can also get this in our Christmas and Halloween apron fabric. Have fun in the kitchen and be pretty at the same time.
Look below for the back side of our aprons, aprons fit comfortably around your neck, not pulling on neck like other aprons. Not only do they cover well, but are pretty aprons fun to wear.
Stitch Thru Time is excited with our line of Vintage Apron Patterns. This is our" Rose" Apron. Vintage apron patterns in our ready to wear line with retro styles of Old Fashioned Apron's.

The Vintage Apron pattern of each of our old fashioned aprons in beautiful styles of material.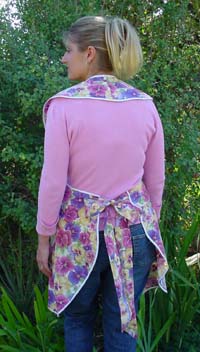 The back or "Rose apron pattern fits comfortably order shoulders, will not pull on neck.
The Rose apron has long apron ties, aprons cover on sides and back.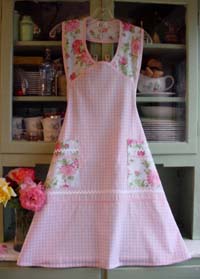 1940 Pink Gingham w/pink roses #128
Women #128 $48.95
Little Girl #205 $39.95 Child Large $44.95
Rose & Violet" Apron patterns in ready to wear only.. Old Fashioned apron patterns like grandma wore.
Grandma's Apron pattern is like Grandma wore. We offer our aprons in ready to wear, The above is the Rose Apron Pattern style.
All of our apron pattern designs are Stitch Thru Time exclusive apron pattern.
Apron patterns not available, but you can get these vintage style aprons in ready to wear.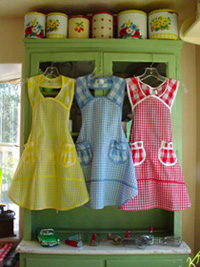 Red Gingham Retro Apron!!
Women's #121 $48.95
Little Girl #204 $39.95
You can also get the 1940 apron, available only at Stitch Thru Time in all our gingham colors, floral, and Holiday fabric. Click for more views.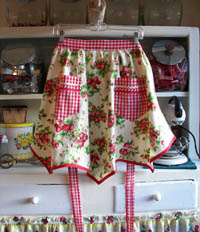 "Victory" Strawberry Half Aprons
#315 $47.95
1940's Strawberry Victory apron, right out of the 1940's.
Vintage style half apron comes in all our apron fabrics. Red gingham contrasts this pretty strawberry with red trim for that retro look. Click for more views of this pretty vintage half apron.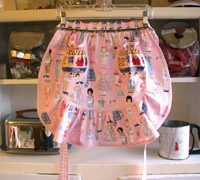 1943 Half Apron
Paper Dolls Half Aprons # 336 $47.95
1943 Vintage style half apron with a pretty ruffle in the front. You can get this in paper doll material, gingham, our Holiday material and pretty gingham colors of pink, blue, yellow, lavender and gold. Click for more views.
Put our Stitch Thru Time apron on, and go back in time to the aprons your grandmother used to wear.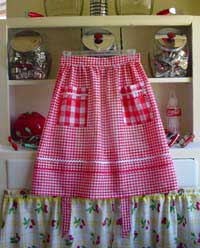 Old Fashioned Red Gingham
Vintage style Half Apron
Women's half apron #303 $47.95
Girl half apron #406 $43.95
Half aprons like the vintage aprons your mother used to wear. Get this pretty apron in red, blue, yellow, and pink gingham. This also comes in all our pretty apron fabrics. Click for more views of our pretty half aprons.
Stitch Thru Time
PO Box 219
Glendale, Utah 84729
435-648-2141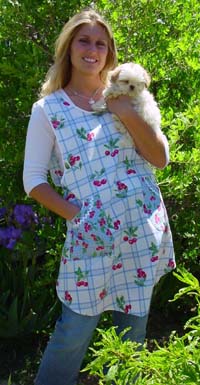 The "Violet" Apron has two large pockets, a very comfortable apron with apron fitting well around shoulders. Violet apron in ready to wear.
(Dog not included!!)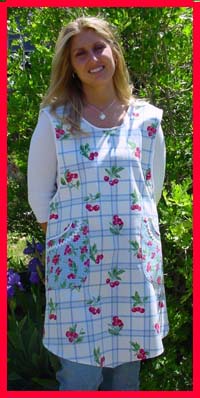 "Violet"
Apron design pattern above comes in all of our fun styles. One of Grandmas aprons brought back through Stitch Thru Time.
Violet apron available in ready to wear!
An Old Fashioned apron with long apron ties and large pockets. Aprons are decorated with trim (ric rac and bias tape like your grandmas apron. Our apron covers not only the front, but also the back.
You can order the Violet apron ready to wear.
$49.95 each
Pioneer apron from pioneer aprons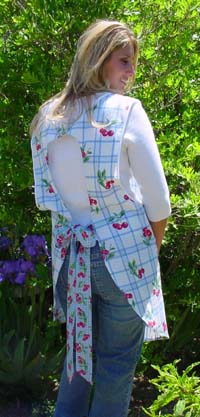 Back of Violet apron covers oh so pretty.. See violet aprons in ready to wear.
Notice the long apron strings for easy tie.
Retro apron patterns from 1940 - 1950's Aprons from the 19th, 20th Century.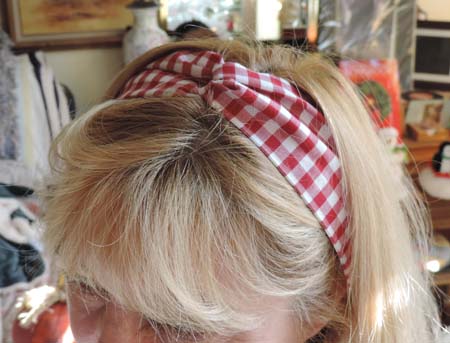 Lucy Hair Wrap in Red Gingham $14.95
Old fashioned hair tie with elastic on bottom for a comfortable hair tie. You may get a matching hair tie for your apron.
Get this pretty hair tie that loops around the front. An old fashioned 1940 1950 hair tie.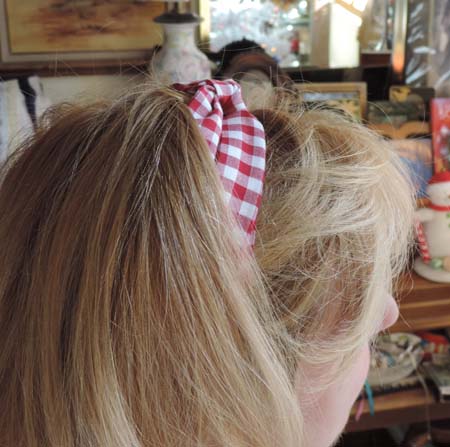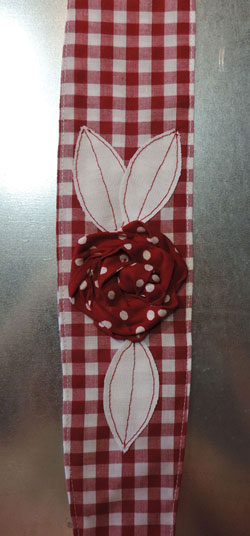 Vintage Hair Wrap Red Gingham with Red Polka Dot Flower #2222 $15.95
Women hair tie in red gingham with red polka dot. Ties around your head so it fits comfortably.
100% machine washable.
This pretty hair wrap also comes in many of our other fabrics.
#2223 Pink Gingham #2224 Blue Gingham

Wild Blue Hair Tie with Flower
#2225 $15.95
Retro Hair with a pretty flower!
You'll think your back in the 60's and will loved the way it fits.